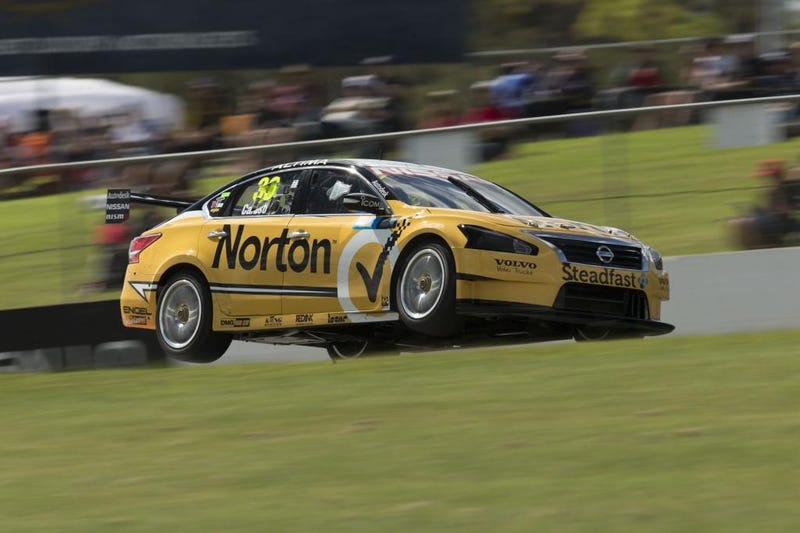 Nissan's first season in V8 Supercars was a bit of a struggle early, with few good finishes (or finishes at all!) to show for the converted Kelly Racing program, but something quite special happened today. In Winton, Victoria, Australia, James Moffat finally delivered on his development series promise and lead a 1-2 for the Norton-backed Kelly Racing Nissan squad.
The pace at Winton this weekend is surprising for Nissan, but not entirely unprecedented. The team was also quite quick at the Circuit Of The Americas round in Austin, but struggled otherwise for the majority of the season. In a wet practice session yesterday, the group lead a session on pace, and it proved that this weekend might see something special. What followed truly was, as a Nissan again lead in practice today and the two Norton backed "second team" Kelly Nissans (though all four cars are run out of the same shop) qualified second and third, even despite a late spin by Michael Caruso on a lap that could have lead the #36 Nissan to pole.
However, reigning champion Jamie Whincup took pole, and to many that lead to the assumption of another easy runaway for the Red Bull Racing Australia driver. Yet, just nine laps into the forty lap race, Whincup's Holden lost power from the lead, and the eternal V8 Supercar dominator walked back to the garage to merely observe the remainder of the event. With just eleven laps left before the half time break, second place starter Michael Caruso lead team mate James Moffat and a charging Ford of Mark Winterbottom by just a few seconds. Winterbottom seemed to have the pace to pass both, but had a fuel issue late and ultimately had to dial back his pace, allowing to the two Nissans to finish the first half in the order they ran.
At halftime, Nissan was in the best position they had ever been in a V8 Supercar race (and the best position they'd been in during a touring car race in Australia since the early 90s), but their leading drivers were two inexperienced drivers known more for causing issues on track than for winning. There were fears that the rolling double file restart that signaled the beginning of the second half could lead to an incident between the two young Nissan pilots that would take the program from it's strongest ever day with the Japanese marque to a day headlined by a fifteenth-or-so run by team co-owner Todd Kelly. However, this was not the case. On the restart, James Moffat got the best of his Kelly Racing team mate and took a lead that he would not relinquish.
20 laps and one absolutely insane ten car battle for sixth later, Moffat went on to score his first ever V8 Supercar win, and in doing so gave Nissan the same honors. Jason Bright passed Mark Winterbottom in the second half to take the final step on the podium, while former leader Michael Caruso held second place to complete Nissan's 1-2, their first in Australian touring cars since 1991. Despite falling to fourth, Winterbottom still had a great day, finishing a full 24 positions ahead of title rival Jamie Whincup.
The next two V8 Supercar races at Winton takes place tomorrow, and can be caught live anywhere in the world (save New Zealand) via the official V8 Superview streaming service, available for purchase at V8Supercars.com.au. These events will be a pair of hundred kilometer sprints separated by about two hours.
(Title photo via MySanAntonio.com)