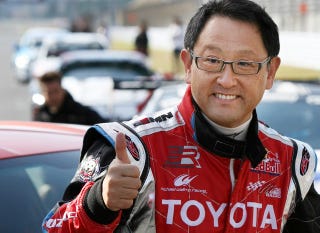 I read this in my print issue but I wanted to share it now that its online.
Correct me if I'm reading this wrong, but it looks like Akio Toyoda; hipster, Racer, lover of cool cars with feel, personable feel good distributor and all around nice guy takes home very little for running one of the worlds largest corporations. Makes other execs look [more] like money grubbin' asshats.
There is some rational that working hard nets you big compensation, that's the American way right? And there is no arguing that Mulally has certainly earned some reward for his work at Ford, but there is also good research that shows that past a certain point there is no correlation between motivation to do a good job and compensation. A point think Akio Toyoda, who has done an admirable job of rescuing Toyota from its beige self, demonstrates with aplomb.
My hats off to you good sir.