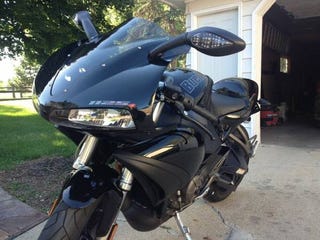 A little over a month ago while talking with a friend of mine, we decided to challenge each other to who could make the biggest profit off of something on Craigslist. After about half an hour of searching I came across a 2008 Buell 1125R with 2300 miles which was selling for $2500. I immediately contacted the seller and asked "what's wrong with the bike?" He replied back something of "why? Nothing's wrong with it" after a few back and forth's I assured him that I would be at his house to check out the bike with cash in hand. He told me something about how he had other offers for $3500 and asked if I could increase my offer to $3000. I said no way Jose- I'll be at your house with the $2500 we agreed on. He said "ok" which means he was telling me a bunch of BS. I get to his house, look over the bike and find out it won't run without a trickle charger which means the battery or voltage regulator is shot. So we went to AutoZone and picked up a new battery which promptly let me fire the bike up and ride it home. $2601 later, I had a running bike.
The next morning I was going to take my lovely bride for a spin around the block but the bike wouldn't turn over. Go figure, I said. For $2500 what can you expect? After ripping apart the entire bike to get to what I thought was a faulty voltage regulator, I tested a few things with my multimeter and figured out the bike's starter relay wasn't making a solid connection. I pressed down on the relay to hear a nice click, which assured my assumption. This fix? Free.
Next up, the bike's left mirror was broken off due to the previous owner's wife carelessly opening her car door and subsequently sending the mirror flying. $111 later, the bike was in saleable condition.
I had originally listed the bike for $7k but received no offers. $6k only netted me a few lowballs of $3500. I opened up my craigslist listings to the nearest 3 metro areas outside of Milwaukee- Chicago, Green Bay, and Madison. Immediately I received offers to trade for a Tag Heuer watch, $3000 in $100 bills, and even a trade for a dirt bike. After getting my hopes of a fat profit squashed, I listed the bike for $5k firm. Of course, this is craigslist where you can't buy anything without thinking that you got a deal on it. A few people were interested in $4000, but I was set on receiving at least $4500 to make a nice even $2000.
Well last night I reached an agreement with what I can only assume is a teenager who just got his first summer paychecks and can afford a bike. He said he has $4500 but needs to pay tax, title, registration, buy a helmet, and gloves. (No jacket?!) We agreed on $4250, I'll give him my extra pair of riding gloves, and fill up the tank so he can ride home.
Here's the rundown of costs for this bike:
| | |
| --- | --- |
| 2008 Buell 1125R | -$2500.00 |
| Battery | -$101.37 |
| Mirror | -$111.42 |
| Tax & Title | -$217.50 |
| Total Spent | -$2930.29 |
| Sold for: | $4250.00 |
| Profit/Loss | $1319.71 |
Of course, I put about 75 miles on the bike just to make sure that it ran correctly and to extract a bit of joy from it. So for a net profit north of $1300, I got to ride one of my favorite motorcycles and got paid to do it.