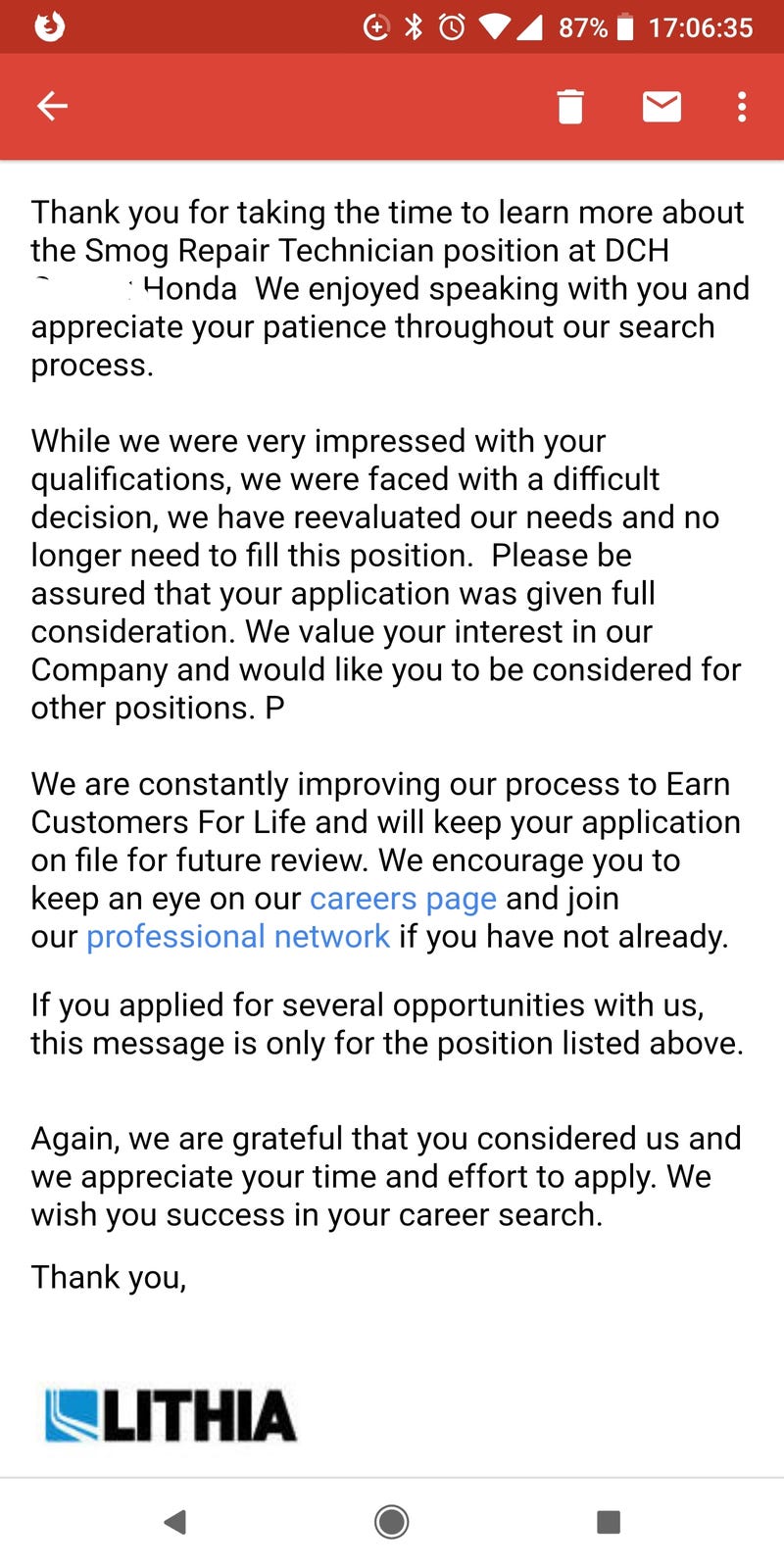 I know some on here work for a DCH or Lithia store, but the ones down here can take their offers and shove it up their ass. The dealer I applied to re-posted their listing three days before I got this email, and it was AFTER they had already offered me the job and I had accepted.
And it gets worse, I stopped in on Thursday to get more information and see when the service manager wanted me to start. I never got an answer, instead, he said he was waiting to hear back from the BAR about getting their license back.
I responded to that bullshit email with the following:
I have no desire to work for any DCH or Lithia store, and I didn't have much desire in the first place. The only reason I accepted this offer was that it's slim pickings down here. And I was doubly not excited because I used to work at this dealer years ago, and the other techs were complete assholes, and they're still all there.
But, that's fine, it's their loss. They want to choose their employees who are refusing to work on used cars, won't go to Honda training, and aren't smart enough or capable enough to get a smog repair license then fine, you guys go right ahead. I can hold my head high because since I left I went to independent shops where I have learned so much. I also became an ASE Master Technician, and ASE Advanced Level Specialist, and an ASE Undercar Specialist. I have eleven ASEs and counting. And unlike the dumbasses that work at that dealer, I was able to get my smog repair license years ago after I got my Inspectors license.
AND, DCH, which Lithia bought, and this dealership is still branded as DCH was the same company that was sued in California for millions for blatantly violating California labor law. And when I was there, the entire service department had a meeting in which the GM said everyone needed to take their lunch by their 5th hour. He also said that DCH would NOT be paying employees for their lunch even if they went to lunch after their 5th hour, which they're required to in California. And the service manager didn't say anything when a service writer told everyone in the room to just clock out and go back to work if you were busy.
So, thanks Lithia and DCH, but I'll pass.