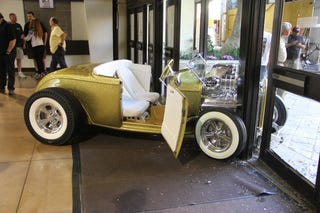 From Hot Rod's blog:
Folks, please, always make sure that your throttle is free and doesn't stick. Not that we wanted this to be the first post for the 2014 Grand National Roadster Show but one of the contenders was approaching the viewing area to be judged when his throttle stuck, running over GNRS judging chairman Vic Cunnyngham, resulting is serious, though not life threatening, injuries. And the roadster is in bad shape. ALWAYS make sure that your linkage is free of hangups and interruptions or this can happen to you.

Read more: http://blogs.hotrod.com/tragedy-104161…
Follow us: @HotRodMagazine on Twitter | HotRodMag on Facebook
I've got a friend that's having issues with his car, it was supposed to be at the show but it's not gonna make it. Told him it coulda been worse.
Similar thing happened a few years ago at Detroit's Autorama. Another friend of mine was hit in that incident, and he's taken a long time to recover. Don't eff around with trailer queens if you do nothing but trailer them.