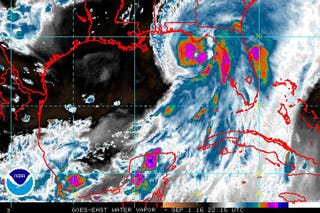 Most of last night and today was pretty tame. About 30 minutes ago, we got smacked with our first really rough band of storms, with another on the way soon. Looking forward to going up on the roof Saturday or Sunday as I heard a bunch of crap fall on it. Ironically, and thankfully, I was just up there on Wednesday cleaning it and the gutters.
Earlier, we did go down the street to the bayou, but opted not to drive along it.
As close as we are to the water, there is enough elevation that we are technically not in a flood zone.
We'll see what the night brings. Probably several bands of strong storms and more crap on the roof.