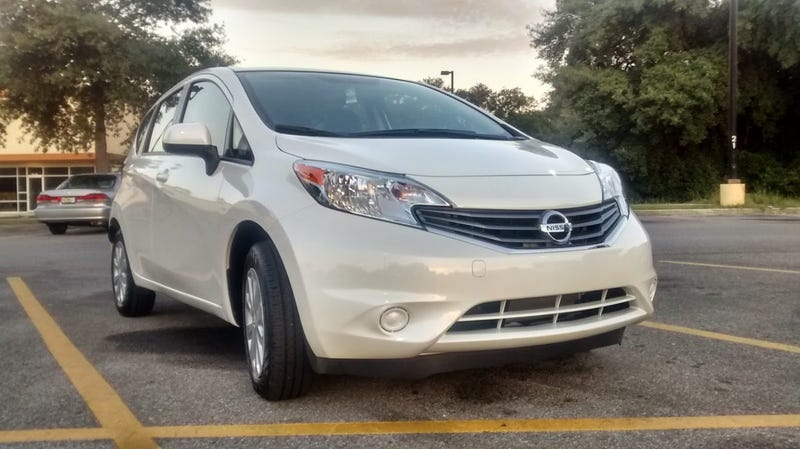 Well, I've now owned my brand new 2014 Nissan Versa 1.6S 5-speed for an entire day. Since this is my first brand new car, I'm trying to document each and every little detail, experiment, and milestone. I've already set it up a Fuelly (search for Smudgey) and started a maintenance log for the future. I bought it with 23 miles, it now has just over 40.
+ Engine is very quiet, almost inaudible at idle, road noise isn't too bad considering the lack of insulation
+ The backseat is HUGE. I'm not just talking about "for a small car". With the driver's seat where I like it, which is pretty far back because I have long legs, there is still abundant head & leg room.
+not as susceptible to crosswinds on the highway as the Versa sedan (from my very limited testing so far)
+feels significantly more solid and better put together than Versa sedan (2012 model)
+With just a few hypermiling tendencies, the trip computer is reading at 37 MPG non-highway so far, higher than the highway rating of 36. Once the car is broken in I bet it'll consistently get 40 MPG around town
-Stereo sucks. The bass was set to '2' when I took delivery and it was already washing out the rest of the audio.
+Love the outboard mirrors being mounted on the door rather than the DLO. Excellent visibility!
+Clutch is lighter than an Olsen twin.
-Showed some of my buddies living in dorms and they felt it was a very feminine vehicle.
+Seems to be getting along quite well with my Panther so far. They're protecting each other from door dings, at least on one side.