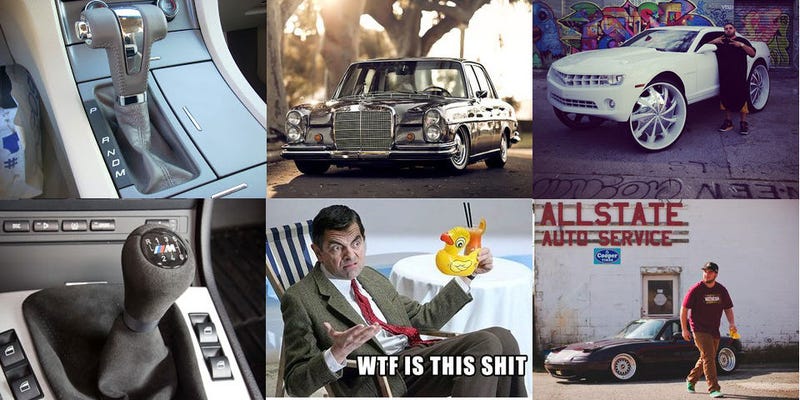 People on Jalopnik and car guys in general often argue about what is best or coolest in the automotive world. This ranges from debates on current f̶a̶d̶s̶ trends like Stance/Donks, to classic arguments over the benefits, detriments and superiority of FWD/AWD/RWD or manual/automatic transmissions, all the way back to Chevy vs. Ford. vs. Mopar and NASCAR vs. Formula 1.
The problem with these discussions, and perhaps any argument concerning a topic that someone feels strongly about, is that as soon as it begins many people become completely ignorant and unreceptive toward others' viewpoints and jump to such extreme ends of a debate that they are unwilling to compromise that opinion by even considering a middle ground.*
Therein lies the problem.
Consider the following:
Stanced/Donked/Lowriders/Hellaflush/Rat Rods/etc cars exist only for looks, no-one is going to the track in one of those or even drive it enthusiastically on the street and very few are stupid enough to daily drive an extreme example. As long as they are built properly and driven sparingly, why bother hating on them? It may not be your style, but it's also not your problem.
NASCAR vs. F1 comes down to essentially the same thing. You may not like one or the other but there is no point in putting one because you don't like it.
Manufacturer preference is fine, in fact I understand brand loyalty and think its something important for manufacturers to try to develop and maintain but to refuse to even consider something else based on such an allegiance is just absurd.
[FWD vs. AWD vs. RWD] or [Manual vs. Auto vs. DCT] - There is no absolute right answer for any of these. Each has it's own merits.
FWD has it's packaging and cost benefits, awd has a traction advantage and rwd may be the best dynamically. That doesn't mean however that rwd/fwd are useless in snow, or that fwd cars can't be good to drive, that's silly to assume.
A manual may be the most engaging and fun, a DCT may be faster and more efficient and an automatic may be best in traffic. That doesn't mean that autos or DCTs can't be engaging fun or that manuals are unusable in traffic and slow. Again, silly.
I think I've covered most of them there but you can apply reasonable thinking to almost any subject. I'm not saying everyone here is guilty of such closed minded thinking but there are definitely some that should try this approach.
This goes as far as left/right wing political, religious or gun control discussions. If more people had less of a tendency to drift toward the extreme ends of said arguments and would consider a middle ground, maybe a lot more would get done and less people would get butthurt in the process.
Just remember, nothing is absolute, everything in moderation and try to be reasonable in your preferences and what you consider allowable. All of the following can be cool/acceptable in their own way.
Except you mr. Hummer H2 owner. You are still a tool and those shrinking testicles of yours, you should probably get that checked out.
*Holy run-on sentence, Batman.