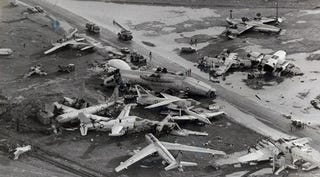 Courtesy Hartford Courant
I knew about the tornado that damaged or destroyed much of the New England Air Museum collection in Windsor Locks, Conn. on October 3, 1979, but I never saw this image before. While I can't name every single aircraft, the ones I can are heartbreaking to any aviation enthusiast; B-29 Superfortress, B-47 Stratojet, B-57, B-17 Flying Fortress, B-25 Mitchell, A4 Skyhawk... just to name a few.
The museum has been rebuilt and some of these planes have been replaced, while others are still in their restoration yard, for possible repair/restoration decades later or to be parted out.