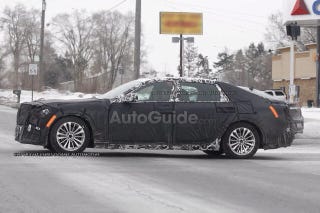 I learned just now that Cadillac is testing their S-Class fighter, possibly called the 2016 LTS (thanks for the pic, MooseKnuckles). My problem is simple: perhaps buy a car this year, or wait a couple of years and buy the LTS. HALP!!!
As many of you know, my current DD is a 2006 F150 Lariat 4x4. It's a nice truck. It hasn't really given me any problems, either, even though I've got about 102k on the odometer. My plan for this year WAS to trade in my behemoth, buy a mid-to-full-sized performance sedan and get my wife a slightly used Tahoe/Yukon. Why the large vehicles? Sedan for the three kids we have, SUV for the boat, hunting, and three kids we have.
But NOW Cadillac has screwed up my plans, the rat bastards. I'm actually a big Caddy fan. I like BMW, Audi, MB, Jaguar, etc etc etc. But GM's lux brand has held a special place in my heart over the past few years, mainly because of the CTS. Now, however, the LTS, due to the possible beauty and brawn that lays underneath that street camo, has my attention. And DAMN that would be nice to have if the package works out well.
My question to you, fellow opponauts, is should I buy a car this year (possibles are slightly used Jags, Audis, or new CTS-Vsport), or hold off for another 1.5 years to find out what the Big Daddy Caddy is all about? I try to hold onto cars for a long time (8+ years), so keep this in mind.
My body is ready for your answers.