Looking through the Cuban Craigslist, Revolico.com again, I found this '58 VW Guagua (Cuban slang for Bus). The photos in the ad were badly distorted, so I did what I could: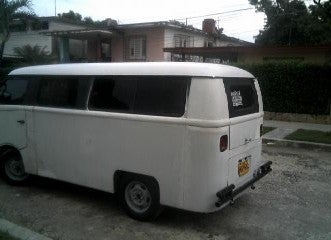 Looks like a lot of the sheetmetal on the sides was replaced, losing the rounded bottom contours and it's had quite a nosejob as well. That was probably to accommodate the driveline. Quoting the ad:
1958 VW Bus

Mounted on Hyundai, Hyundai turbo diesel engine, 5-speed automatic, power steering. 40,000 CUC.
CUCs, Cuban convertible pesos, are at a one-on-one exchange rate with the dollar. At $40,000 we're seemingly looking at CP territ0ry, when '50s American cars running about half that, but it's most likely the price is based on this vehicle being used for taxi service.
Original listing here: http://www.revolico.com/autos/carros/g…