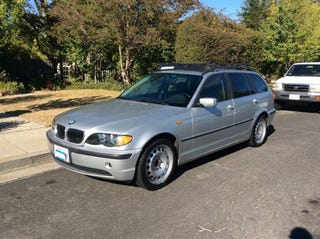 Ok. I saw this lovely manual BMW 325XiT wagon. (AFTER seeing the police report about the accident, I'm running away from this POS) My dad tested it out. My dad was trying to negotiate 4200. The owner refused to budge from 4800. He acted like an asshole. He lied about this being a "California" car (I saw the papers). He drove 12k miles in the past 6 months on this. My dad drives 30k miles a YEAR. I plan to DD this, not my dad. The gates were also quite loose, to the point that my dad, an experienced manual driver, was often misshifting 3rd and 5th. And I also bought a carfax. HOLY SHIT.
6 OWNERS. HOLY SHIT......and east coast. I don't see rust but I don't doubt if there is...
Accident reported. "rear impact" "slight damage reported". Sold 6 months later. Uhhhh
That was quick. ONE MONTH. And it says "Accident reported, Extensive damage reported Airbag deployed"....Crack pipe.....maybe...
This guy claims he's owned it for 6 months. The carfax says elsewise. This is sketchy. He also texted me
The airbag light is on (he claims a unplug and plug back again in the side door would fix the light). One of the window regulators were broken and a bracket was holding the right window up (the one that has the broken regulator). The window switch for the front windows by the gearshift needs replacement. SO NP or CP? Should I send him this info? He doesn't know of ANY accidents or most of the car's history. And how much should I ask based on this incriminating info? FYI it has 200k miles now