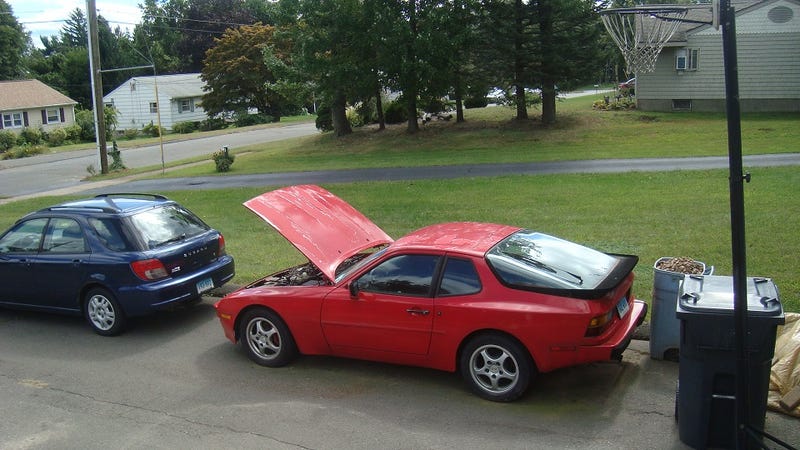 I've been looking for a 944 for a small while, as some of you may know. But due to my (currently) limited budget, I'm trying to find one if a low buying price.
My criteria has basically been:
-Running or almost running
-Previously semi-well maintained
-Under/around $2K
-Has an interior
-Manual
Well, I found a few that almost meet criteria, and I've also been lucky enough to look at some 944s, but the ones that I have looked at aren't really what I want.
So anyways, I found this one.
Basically, it doesn't run. Its been sitting for less than a year. Could be dead battery and old gas?
I haven't looked at this one in person yet, it's a little far. So I wanted to know what you guys thought of it.
This is what the owner has told me about it...
Hi, I haven't sold it yet. No major problems that I know of. Some things I do know of are steering wheel vibration over 55mph, I was told it was most likely tires out of balance. 2 clips that hold the sun visors up are broke. I saw the on ebay for about $7 each. right now the problem is getting it started.
It has not been used since last year.
Could not start it. Dead battery and old gas?
4 cylinder 5speed manual transmission.
79,223 mi. odometer stopped working.
No body rust. Clear coat on hood and roof is peeling.
It would start with starting fluid then die out.
I don't have the time to work on it. I changed the water pump, timing belt,v belt, thermostat, upper radiator hose 9/17/2008.last time I tried, It would only start with starting fluid, then die out. I do have a title.interior? driver seat has 2 rips, not the original radio, rear speakers not hooked up, 2 clips on visor broke $7ea. ebay?.crack in the dash board.
What does Oppo think?
UPDATE: I found a nicer, cheaper, running, and more suiting 944! Will update as the situation progresses.