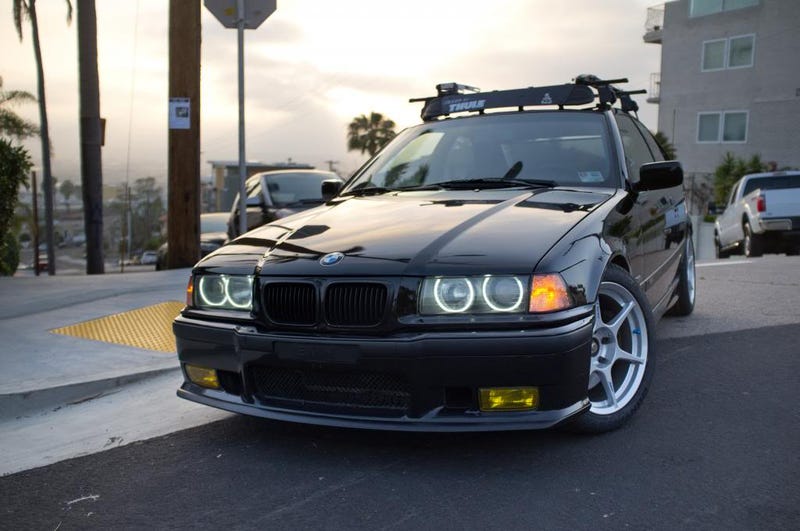 A wise man once said to me, "Garrett, stop buying these stupid, old, unreliable cars and grow the fuck up. Dumbass." Yes, before you ask, it is appropriate to read that in Red Forman's voice, go ahead. You see, before I bought my 2014 Focus St, the newest car I've ever owned was a 1999 Jeep Wrangler, along with a few 1990's Toyotas, a '91 Cherokee (miss you, babe), a '94 Ranger, a '97 Wrangler, and then finally this 1997 BMW that I have for you today. I always rationalized having older cars because I'm decent with a wrench, and always preferred to do what ever work I could myself.
Recently, though, that last part changed. And when I say recently, I mean like 3 years ago, and that I'm an idiot and thought I still had the time. So with full time work, full time school, an active band, and a girlfriend, I really do not have the time to work on my car. It's not that my BMW has been unreliable, actually it has been very reliable with only routine maintenance, but when something does fail, it is guaranteed to take out a weekend or two of my time. It's just been regular stuff, like the fuel pump going out, which was the factory part that was bound to wear out sometime, but that's still more than I can really afford to deal with.
So I decided to be a growed up (I miss Rugrats) and buy a new car with my new big boy money. I have begun my career, and am actually being able to save a decent chunk of change for the first time in my life. It was finally time to be responsible and buy an overpowered hatch back that gets much worse gas mileage than it's sisters that cost much less. Adulthood!
Anyway, here I have for your careful consideration, my third favorite car I've ever owned (out of 11 now), my 318ti.
The Car $4500:
It's time for me to part ways with my baby. With full time work, full time school, and a girlfriend, I just don't have time to maintain an older vehicle anymore. I bought it off of a huge BMW enthusiast who took great care of it, and it's time to pass it on to another who can keep the BMW hatchback dream alive here in the US since BMW doesn't want to sell us one anymore.

I firmly believe that a seller should be as open and honest as possible about the vehicle they are selling. I will answer any and all questions I can, and be as detailed as possible. I did an absolute ton of research on this car, so ask away.

1997 BMW 318ti M-Sport:
—Clean title in hand, registered in CA
—172,000 miles on the chassis, but ~80k on the engine and transmission. The engine was swapped in from a wreck and had 60k miles at the time of the swap. New clutch went in at this time.
—All maintenance records are kept starting from the late 90's. Documentation of all work done is included
—A/C and heater work fantastic
—Power moonroof
—Tons and tons of spare parts. Most original parts of any upgrades included as well

Upgrades:
—Full coil over suspension on all four corners with M3 struts in the front swapped left/right for a bit of negative camber
—E46 330i front disc brakes with Zimmerman rotors in the rear
—Stroemung cat-back exhaust (very hard to find now)
—Custom cross brace with strut reinforcements (common trouble area with e36's)
—Kosei K1 rims with Continental DW all seasons - 65% treadlife left
—Euro spec BMW M-technic leather steering wheel (have original as well)
—ZKW 4700k HID projector lights (Not just a bulb swap, this is a proper projector kit)
—Euro spec ZKW fog lights w/ XPEL yellow film


Exterior: 7/10
—Paint: 6/10 The clear coat is peeling away along the driver's side door and front fender. The rear bumper has begun to fade.
—Body: 8/10 A few small dings, some scratches in the rear window, nothing major.

Interior: 8/10
—Seats: 7/10 There are a few small holes forming on the driver's seat lumbar bolster, but otherwise the seats are still nice. The rears look immaculate.
—Dash: 9/10 Almost perfect. There are a few LEDs out, one in the gauge cluster (between speedo and tach), and one for the HVAC panel. The steering wheel is extremely nice, and a new OEM leather wrapped shifter.
—Everything else: 8/10 The carpets look a bit worn, the rear parcel tray has faded from its original black, nice OEM rubber liner in the rear.

The Good:
—It runs and drives great. Idle is perfectly smooth, the clutch has plenty of life in it, it shifts smoothly, and will corner like a go-kart.
—Electronics are in working order. Remote locks, lights, all work. Just one issue with a window (see below)
—Gets pretty decent MPG. It is rated for 32 on the freeway, and I get over 30 cruising at 80 mph on trips. Mixed freeway/city, I average 27 MPG.
—Brand new battery, the starter, fuel pump and fuel filter.
—Has undergone religious oil changes and maintenance
—Does not overheat. Will do stop and go traffic in the middle of summer with the A/C blasting just fine. (notorious e36 problem) This is with the mechanical fan delete.
—No weird vibrations, tracks perfectly straight, no weird noises.

The Bad:
—The felt guide on the driver's side window deteriorated inside, so now the window will not roll down all the way. The regulator and switch work fine, the window is just obstructed from rolling down. Passenger window and moonroof work fine.
—The fuel pump needs a few seconds to prime before ignition. Otherwise the engine will crank over but not start on the first try. Second try, or after the lines pressurize, it starts up fine.
—Will need new brakes soon. Depending on how long this is up, I might do them before selling.
—The passenger rear shock is weeping fluid. Still works fine, but will need to be replaced at some point.
—The exhaust has started to rattle a bit after 4500-5000 RPM. The hanger is just getting a bit worn out.
—The speakers and stereo work fine, but should probably be replaced if you're serious about music. They start to crackle when turned up too loud.

Other details:
—The suspension is very stiff. The upside of this, is that it can take turns flatter than seems possible, but it is not what I would call comfortable on bad roads. If you're looking for a comfy daily driver, this isn't it.
—This car is not fast. At all. It only has ~140 horsepower, so a mildly upgraded Civic will have you in a straight line. Where most cars cannot touch this, is in the corners.
—The grip in this car is unreal. You can brake late, and throw this into a corner at a much higher speed than your gut will tell you is safe. Seriously, you would have to be an idiot to find the limits of this car's grip on city streets.
So there you have it, Oppo. Keep in mind that I put it up at about $500 too expensive to let people talk me down. I would like to get somewhere in the vicinity of $4,000 for it, but we'll see how things go. I know what KBB is on this, but the relatively limited market for these cars seems to defy that number.
<a href="
">Nice Price or Crack Pipe: 1997 318ti</a>
I apologize for the wonky poll script. For some reason it doesn't want to work correctly for me.