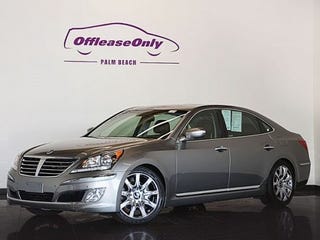 It would appear that most of you on here don't like the Hyundai Equus. When I say, "don't like", I mean it would seem to range from mild distaste and disinterest to downright scorn that anyone in their right mind would ever think of penny pinching to the point of trying to save $12,000 under the price of a Lexus LS, or "why the hell wouldn't you just spend the extra $30,000+ and get an S-Class?"
I like the Equus. My grandad came very close to buying one, but alas, it was just too high-tech for an 80 y/o luddite like him. Which was a shame, because in person, when you drive it, the Equus is a very nice car. Sure, it's no S-Class, but for a mere 2/3 of the price, it's certainly more than 2/3 of an S-Class.
But buying new, as our very own Automatch Tom once said, is not always the way to go. Buying off lease or CPO vehicles often provides much better value. Enter OffLeaseOnly of Florida. They specialize in, you guessed it, off lease luxury cars. And they are offering this 2011 Hyundai Equus Signature in nice gunmetal grey with tobacco colored seats and under 15,000 miles on the clock, for a measly $27,999. That's over 50% off the original MSRP, and when you consider it's only 3 years old and has covered such a tiny amount of miles, plus the fact that it is identical to a "new" one, this car isn't just good value, it's a screaming bargain.
Say what you want about the Lexus/Buick fusion styling, or the optional hood ornament, or the big, shiny wheels (I like all these things). And rant until you're blue in the face about how it's nowhere near as well-built as a Benz or a Lexus. There can be no denying that, if you realize that you don't actually need your sedan to cruise all day in 110 degree heat at 155 miles an hour, or if you simply don't feel like paying an arm and a leg to buy such a car, and then both your liver to keep it running, the Equus could be the car for you.