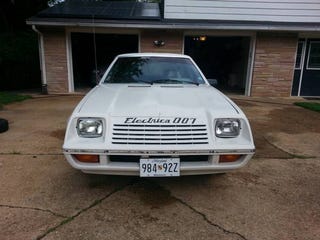 Dear reader, I present to you the 1980 Dodge Omni Electrica 007. For a mere $5,000 you can be the absolute strangest person at your next cars and coffee meet.
Only 1 of 10 ever made, the Electrica guarantees exclusivity if nothing else. Why the 007 at the end of its name... no clue. James Bond sure as hell doesn't know either or else it would have been blown up by a Lotus spy car by now. It may be electric but you still have to row your own gears. Yes, it does have a clutch pedal and four on the floor. How does it get weirder you ask? It has a gas powered heater. Note the fire extinguisher on the floor.
Most of the batteries are all crammed in the ass end for optimally abysmal weight distribution. There are gauges everywhere just in case your are a big fan of watching needles move back and forth. The aftermarket head unit is a nice touch though.
I may be critical of it, but I am honestly fascinated by it. And I think you may be fascinated by it too. How often do you get to own 1 of 10 of anything? Well... pretty easily if less than 10 people want one.
Kinja is being Kinja so here are all the "undersized" pictures at the end, as well as the link to the original ad.