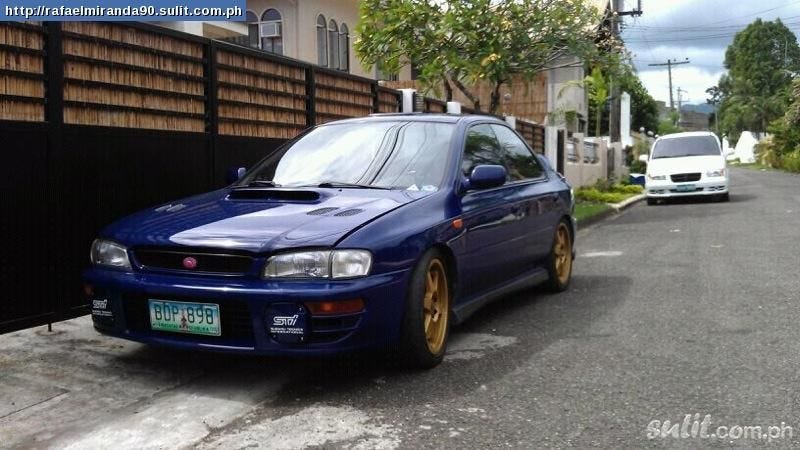 Here's a Subaru I found on the classifieds. However, it's not an ordinary WRX STI. It's a special version to commemorate the late Colin McRae for his excellent years in the 555 Subaru World Rally Team. Here are the info.
196/555 cars that were made in the whole world. (Colin McRae World Rally Champion's memorial car)
ORIGINAL LHD components. (rack & pinion; cross member; dashboard; signal light & wiper switch; trunk & gas lever; NO WELDS whatsoever)
HKS Full Exhaust (belmouth downpipe)
17's Technocast Rims with Federal RSR's (90% left on tires; practially brand new)
Warlbro Fuel Pump
BC Coilovers - ER series. (top pf the line model worth 80k)
Hella Fog lights ( brand new; uninstalled yet)
"555" mudflaps (uninstalled yet)
Front and Rear Perrin Swaybars (new and uninstalled yet)
Fully Tax-paid and COMPLETE papers
Original Rally Roof Scoop
New Speakers
Alpine stereo with video display
Additional PHP50,000/US$1,211 optional for BRAND NEW, uninstalled Brembo Brakes (caliper & rotors)
The car is in prestine condition. Never been into any accidents. No leaks, no rattles and runs very fast. Its completely stock in terms of engine modifications and has never been raced. Rest assured its engine is not beaten up at all and was just used as an everyday car from my house to work and that's about it. I planned to mod it, but gave up and wanted to do offroading instead. (I'm willing to ship it to Manila for Manila buyers)
Nice Price or Crack Pipe?