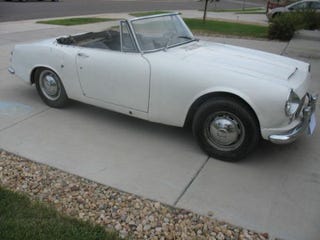 http://denver.craigslist.org/cto/3646244890…
This Fairlady 1600 is the unwanted middle child of the Datsun roadster brand, but for #3250, will it drop your top?
In the 1960s, one of the first Japanese takes on the british Roadster, the original Datsun Fairlady, established the US market roots of the decades-old Datsun brand that brought us the 510, 240Z, and numerous cheap sedans.
This 1966 Fairlady 1600 is not the super-desirable Fairlady 2000, but is almost there. These cars have gone up in price recently as they become more collectible, and while this one is in need of some TLC, it runs, has collectible quality, is likely to turn heads and be a joy to drive. At least, on sunny days only. Pushing (probably slightly less than) 96 horsepower, it may seem dull, but this car tipped the scales easily below 2000lbs, giving it a power-to-weight ratio close to a similarly priced Mustang V6, between 1994 and 2004.
While the sentiment of the cute sports car is worth it, the question one must overcome really is: "What would you do with it?" It won't win any car shows. It's not a Miata. It isn't fast or particularly clean. There isn't much opportunity for performance, and it will never fetch the premium of a Fairlady 2000. But it is unique and impossible to find so cheap. It might be a paint job, new top, and dusting away from having a half-price 60s Ur-Miata Datsun that is unlikely to go down in value in the future. But it might also be a money trap waiting to spring on the first unsuspecting buyer.