And now back to our regular Oppo programming. Today's nice price or crack pipe feature a much beloved livery on a Porsche, unfortunately it is a 924.
Up for consideration is a rare Porsche 924 Martini Rossi Livery, yours for only $1500. The car was produced for 2 model years with 66% of the cars ending up in the US (2000 units, compared to 1000 in Europe).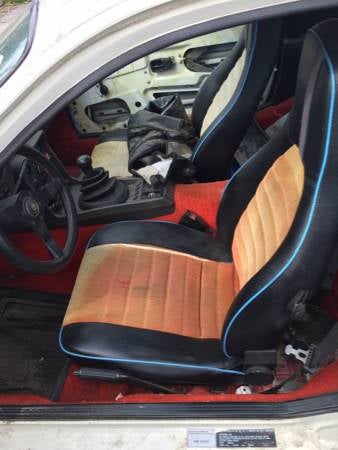 Looking at the images, this car will need some help. The listing remarks the interior is like nothing I have ever seen, but seems to neglect, that part of it is missing. Body looks mostly straight, but it looks like a fair amount of Bondo was used on the RF quarter panel. The rear window looks like it will need new sealant. However, this car only has about 73,500 miles.
So what say you Oppo? Is this 924 worthy of your $1500?
Posting copied below for preservation

1977 Martini Rossi Porsche 924. You will NOT see another one of these. It is a limited production package. 4 cylinder with a 4 speed manual. The interior is like nothing you've seen. Car will run but needs some work. I have to many projects and have to make room.