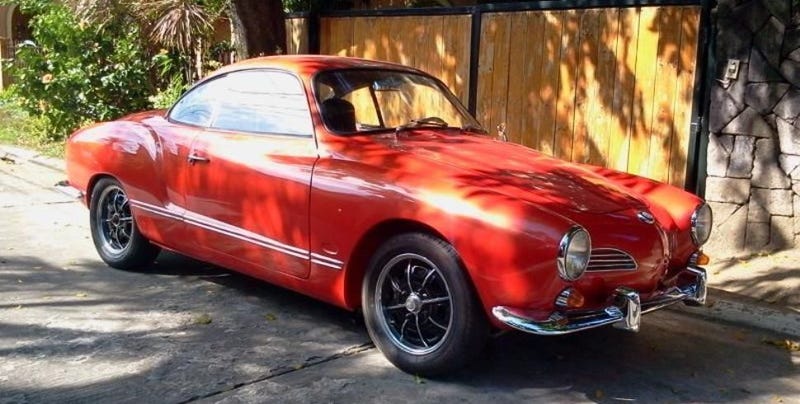 Last Tuesday, there was a rare ricer, the Nissan Pulsar EXA/NA, that popped-up in my random searches, and surprisingly, it was a dead heat between the two ratings! Now on today's NPoCP.ph, let's celebrate the 60th anniversary of most popular affordable sports car, the Volkswagen Karmann Ghia.
60 years ago, Volkswagen wanted to spice up their lineup from just the Beetle. To fix this, they called in German coachbuilder Karmann to engineer it, then Karmann brought Italian design studio Ghia to work on the body. When you mix the German engineering with Italian styling, then it will turn into the Karmann Ghia. Based on the Beetle, the KG is rear-engine, rear-wheel-drive like a Porsche. It had a choice of 1200, 1500 or 1600 cc flat-four engines. Despite the small engine size, the Karmann Ghia was a big hit throughout its production. Starring in media roles like the intro in the 60's Get Smart to the today's Jerry Seinfeld's Comedians in Cars Getting Coffee (Season 1, Episode 5), it was a trend-setting 2+2 for the masses.
This, I think, is the bargain for a 1600 cc Karmann Ghia.
For Sale: 1963 Volkswagen Karmann Ghia

Rare Classic Sports Car Show and Daily Driving Condition
1600cc Dual port Engine
Fun and comfortable to drive - Front disc brakes and ball joint suspension, independent rear suspension.
Rare Porsche Pedrini Wheels
Rare Speedwell steering wheel
Scat Dragfast Shifter.
New in and out.
Likes: Clean body, clear bumpers, retro styling
Dislikes: Quite a heavy price
Happy 60th Birthday, VW Karmann Ghia!