As the holiday weekend approaches, smells of home-style cooking and the sounds of family gathering fills the air. Then that is completely ruined by Black Friday shopping.
Speaking of shopping, today's NPoCP features a couple of weekend warriors.
The first is a Ford Contour SVT which actually did exist. This particular Contour has seen the "artistic" touches of its current owner. With it's 195-hp and 5-speed manual, this car could easily serve as a weekday hauler and weekend autocrosser. However, it certainly won't make that out of the gate. The post details an idling issue that causes it to stall which could be anything from a serious issue, to a dumb mod conflict. Moreover, the engine has been replaced in this car at least once and currently has 95k miles on it compared to 115k for the rest of the car. Yours for only $800.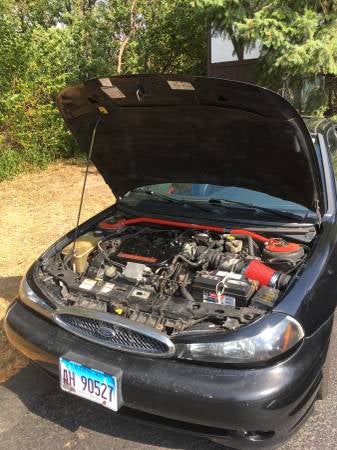 Ad preserved below:
1998 contour svt.. needs tow. Wouldn't recommend driving. doesn't hold an idle (stalls) I don't know why just happened suddenly the other day. Drove fine just a few days before this issue started. I do not have the time or money to get it fixed I have another car and this car is taking up space at the apartment complex I live in so I need it gone ASAP

115k on dash, around 95k on motor. Comes with Spare parts. Exterior black some scratches front bumper has a crack. Interior navy blue 9/10 very clean. Magnaflow resonator and short throw shifter. 12" sub in trunk with amp all wired up tucked n ready to go.
Our second NPoCP for consideration today is one that has been described as "unobtainium" by some members. Well, that is still true, because this one is a not a low mileage example from the desired years, and it is an automatic.
This is a 1993 Lexus SC400 with a bunch of new parts, and a bunch of broken ones. This car has been sufficiently tested over 237,000 miles. Compared to the Contour, this one has a much better chance of being driven home. Yours for $1000.
Ad preserved below:
This car is a work in progress. It does run and drive.

It has a whole lot of new parts such as:

right front O2 sensor

Battery

New exhaust tail pipes

Timing belt replaced within the last 2 years

Brakes Master cylinder

Both front brake rotors, pads, brackets, and calipers

rear left brake rotor, bracket, and caliper.

both rear brake pads.

New Alternator

It is fully loaded with a sun roof, power locks, power windows, electric seats, heated seats, electric steering wheel adjuster, leather seats, cruise control, traction control.

The body is in decent shape, and there is very little rust.

I have also changed the power steering fluid recently.

There are a few problems:

The Heater is broken (needs new heater valve + solenoid)

There is a check engine light (does not need emissions test because it is a 93)

Trans acts weird in reverse (it does back up)

Speedometer is broken

Needs new radiator soon

Needs tires soon

I have owned it for a while now, and overall it is a great car. The engine in it is completely solid, and will easily make it to 300,000 miles. I have taken it on many trips to northern WI, and it ran strong.

It would make a great project, or parts car. It can be driven home.

Asking $1,000 OBO.

If interested, call or text.