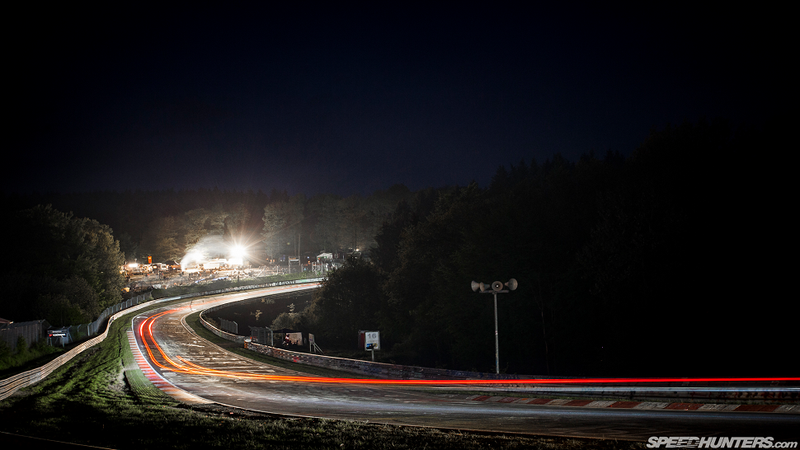 The Nurburgring 24 Hours is a race unlike any other. One hundred ninety cars will take the green flag Sunday afternoon, and many less will take the checkers after 24 hours of fighting the Green Hell. Since there are so many classes and cars, an exhaustive preview is impossible, so I'll cover the interesting bits.
The Cars
There will be up to 29 classes (some experimental classes might be combined or empty), ranging from GT3-spec SLSs and R8s, an LFA, 5 or 6 Toyobarus, all the way to an Opel Manta. The classes are split roughly on displacement, with separate classes for turbocharged engines. The "24 Hour Specials," cars just competing in the 24 hour race, are separated from cars competing in the VLN series, to allow VLN cars to treat this as another VLN race.
The race winner will likely come from SP 9 (GT3), be it an R8, SLS, 911, Z4, GT-R, 12C or Vantage. Look out for Manthey Racing's SP7 911s, as they are Porsche's factory team racing the GTE 911 RSR. There's also a 12C GT3 that could challenge for pace if it gets its reliability issues sorted. A GT-R GT3 is making its Nurburgring 24 debut, so don't expect it to challenge for the win, even though the GT-R held a lap time record. Kaz Yamauchi, CEO of Polyphony Digital, will drive the GT-R. Audi brings their "customer" GT3 program for the competitors running an R8. Audi's "customer" program is about as close as it gets to the German manufacturer having a full factory effort.
It's not all about winning, though (OK, it's all about winning, but there are a bunch of cool cars that won't win). Akio Toyoda is racing in the GTE-spec LFA for Gazoo Racing.
Gazoo is also running two Toyota 86's. Aston Martin is running a hydrogen-hybrid Rapide S that can switch between hydrogen and gasoline in its 12 cylinder twin-turbo engine.
An old GT2 Oreca-built Viper will race in the AT class; its run by a German privateer team. An Opel Manta run by Kissling Motorsport in SP3 is easily distinguishable by the fox tail affixed to its antenna. The beauty of the Nurburgring 24 hours (and its 190 car grid) is that if you can think of a car, it's probably racing.
Unless you think of the P 4/5 Competizione, which is waiting for a 918, P1, or LaFerrari to race again.
Practice and Qualifying
Because it's the Nurburgring, the first practice on Friday afternoon was wet, and had to be shortened because of fog. That session (which means nothing) was led by the ROWE Racing SLS AMG GT3 ahead of Belgian Audi Club Team WRT in an R8 GT3, and a Falken 911 GT3. Another ROWE SLS AMG GT3 and a Manthey 911 GTE rounded out the top 5.
Friday night saw the first session of qualifying. It was led by Black Falcon's SLS AMG GT3, followed by the Schulze GT-R GT3 and the Abt Team Mamerow R8 GT3. In this session, the hydrogen Rapide S ran two laps on just hydrogen, becoming the first car to race solely on hydrogen. The second qualifying session will have happened between the writing and publishing of this preview; I'll update it as soon as I can. The fastest time for each car in either sessions sets the grid, except for the top 40. For the top 40 cars, there is a Top 40 qualifying shootout later today. Making the Top 40 is somewhat important, as all Top 40 cars get a blue, forward-facing light on the windshield to alert slower cars.
Top 40 Qualifying
Top 40 qualifying gave each of the top 40 cars from the first two qualifying session two flying laps to attempt to get on pole. The Manthey 911 RSR drew the first position, but got passed by the 007 Aston Martin Vantage on the out lap. After the first flying lap, the Phoenix Audi R8 led from the G-Drive Audi R8 and the 007 Vantage. The Mamerow R8 looked fast on its second flying lap, but it got held up by the 125 SLS AMG. The Phoenix R8 of Frank Stippler got the pole, with 007 Vantage improving to P2, and the Mamerow R8 in P3.
How to Watch
This is all well and good, but only one of us is Caswell so we're stuck in the US/Japan/Australia/somewhere that's not the Eifel Mountains. Fear not, dear reader, Oppositelock's own McNewbie has scoured the internet to find streams, both officially from the event and from the teams and manufacturers.
Timetable

(CEST/EDT/PDT)
Top 40 qualifying: 17:50/11:50/8:50 on Saturday
Race start: 17:00/11:00/8:00 on Sunday
Race finish: 17:00/11:00/8:00 on Monday
The full starting grid is available here, and the complete technical and sporting regs are here.
Throughout the weekend, follow along (and contribute, if you want) at the Kinja tag N24.
Nobody is a frequent Jalopnik commentor and motorsports enthusiast. You can follow him on Twitter @NobodyFromOppo.
McNewbie used to be the James Bond of the art world. She is also a motorsports enthusiast, and you should follow her on Twitter @McNewbie1.
Image sources (from top): SPEEDHUNTERS, Daily Sportscar-Dan Bathie, SPEEDHUNTERS (x2), MotorTrend, Motorward, F1Fanatic, Daily Sportscar-David Lord, The Checkered Flag, Daily Sportscar-Dan Bathie