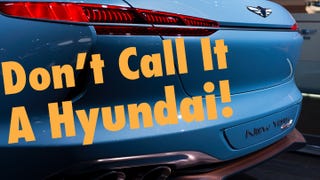 Another New York Auto Show is in the books for this guy, and I couldn't be happier about it. I often wonder if I'd gotten into the automotive media racket at a younger age, would I have gotten jaded just as quickly? As much as I love cars, I have an equal dislike of auto shows.
Read More From The Road Less Driven:
The redeeming quality of NYIAS is of course that, it's in New York. Always nice to have a reason to get a couple of days in the city, see some friends, see some family, see a subway rat drag Mike Roselli down a dark hole kicking and screaming. It's all wonderful, and it's not like I'm not already looking forward to NYIAS 2017, at which I predict we'll see a two door coupe version of a four door body-on-frame SUV from Mercedes-Benz. They can't give us any details yet, but they're sure "we're all going to love it".
Before I get to all the photos, I just want to take a moment to wax poetic about the automotive journalist community. Nobody in the business of writing about cars has much of a reason to be nice to their peers. We're all under-compensated (if compensated at all), over-worked, and many of us would love to be doing something that allows us to actually afford the vehicles we write about.
On top of all that, we've got to save our energy so that we can be pleasant to the keyholders at the brands, thus positioning ourselves to be in the running for getting press cars before the next Tom, Dick, or Jane. Basically, the business should, be full of cynical assholes, who for the most part, don't give a shit about camaraderie.
I'm happy to say that while there are most definitely exceptions, I have found this business to be full of good, and decent people. People who do want to help you succeed, people who do want to collaborate, and people who if nothing else, just share a common love of the the automobile.
I won't go and drop a bunch of names, but I will say that I got a chance to actually have conversations with a number of media folk, some that I've met in passing, many that I've only corresponded with via Twitter, and shocker, all of them were really enjoyable people to spend some time with.
Maybe it was the prevalence of social lubrication, but even if that was the case, I don't care. A bit of my faith in humanity was restored during my 48 hours in New York, and after what has been arguably a shitty week for the world, I'll take what I can get.
Now then, lets get to some crappy photos with attempts at humorous captions.
I Think We're Done Here.