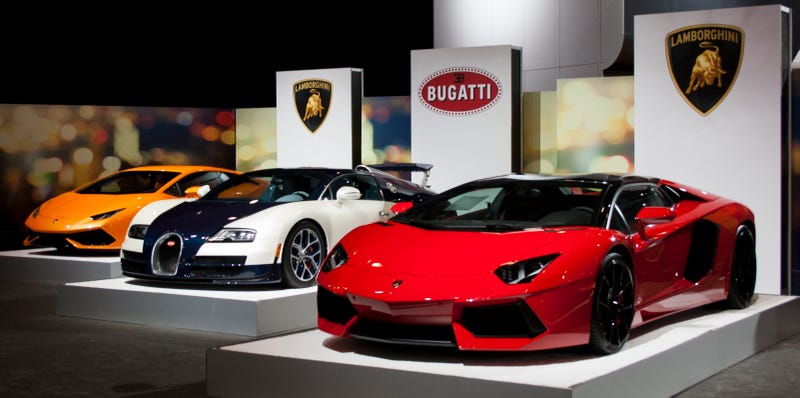 Or, Oppo goes to the auto show. A few weekends ago James, Rico and I spent an afternoon wandering around the Javits Center shooting the shit about lots of cars. It was a grand time, you should have come!
I promise this is the last of my auto show posts. Just trying to step up the photography game with practice.
This is good blue.
Tits and ass edition.
Let's talk about the pleasantly surprising insanity-sprinkled Kia display. First off we were all kind of digging the 650hp K900 they debuted at SEMA last year. It was mounted just high enough off the floor that you could crouch and catch a peek at the wonky rear-mounted turbos, which felt surprisingly dirty. Cool setup, but it feels so damn fragile. They're positioned just behind the bumper, so if you're rear-ended in the thing you are basically up shit's creek. I thought I took some pictures but apparently not.
What I did take pictures of, however, was the awesome quartet of Soul concepts. Well, half awesome. I don't even remember what the first two looked like. But this! This is excellent. This is a vehicle built for fun summer days.
I don't know about the full-length center console, which takes away some of the design's utility, but the heavy-duty cloth and plastic interior is perfect for washing with a hose, which is also a important criteria for buyers in the market for something like this. Just ask an Element owner. And of course, lookit that lil' ball shifter.
The Trackster = Kia Soul + width - height - 2(Door) - shifter throw length + AWD + exhaust. This is the first Kia I have actively wanted.
Rico initially said he wanted to set it on fire, but these fenders helped change his mind.
I always like Honda's concepts because it's kind of funny to see the Honda logo on sleek, futuristic designs. I guess that's kind of knocking Honda a little, but still, the brand is indelibly tied to the Civics and Accords of my youth in my mind. The juxtaposition of that big ol' H and the FCV's swoopy lines is pleasing.
I desperately want lowered squared-off rear wheel openings to make a comeback.
This is also good blue.
As is this!
Classy AF
THOSE WHEELS. My god, those wheels. They make BMW's new styling about 1000x better.
The amber indicator looks like a fat little bird taking flight. Or maybe a golden snitch.
BMW always brings these awesome race cars to auto shows, where they are consistently ignored by 80% of the people walking by. It's great.
Quite a contrast to the new GT, which was entirely surrounded by people for probably the whole five hours we were there.
Kids will love it! Get yours today!
The best blue? Quite possibly.