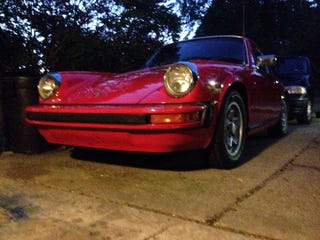 No the car hasn't been crashed or in an accident...Something with the fuel pump?
Since the Magnum is out of commission for a week or two, the 911 has been used as a daily by my dad twice so far this week(The only other cars are my ST, which I need for school, and my mom's Windstar which she needs for work. He took my car to work today and I drove the 911 home from work. I then got a call from my friend saying that he locked his keys in the car and needed help.
Went over there and as I pull by his driveway I felt the car sputter a bit; but I didn't think it was a problem.
Another friend shows up and we as cars pass the 911, I get nervous and decide to pull it in the driveway. I start the car and it starts sputtering more and more and dies and I'm like wft?? Try starting the car repeatedly with the same results.
We jump start the car to the point that I can somehow drive the car 2 miles back to my street where it does for the last time, forcing me to push it a couple hundred feet home. People stopped by and offered to push the car with their cars, but I wouldn't have it.
(Can anyone determine what's wrong from this clip?)
I'm sore and in pain from pushing her down my street BY MYSELF(labor of love) and distraught form the car breaking down, and then my dad just came home and bitches me out for taking the car out to help a friend and for something breaking that was beyond my control... once again he has gone out of his way to make me feel like shit, good night for me. :(
I try to do everything I can to fix and take care of her and one thing happens and I get bitched at...I don't know what's worse; the fact that I got bitched at, or the fact that now I won't be able to attend my first ever PCA meet on the 14th. :(
I'm all kinds of sad now.