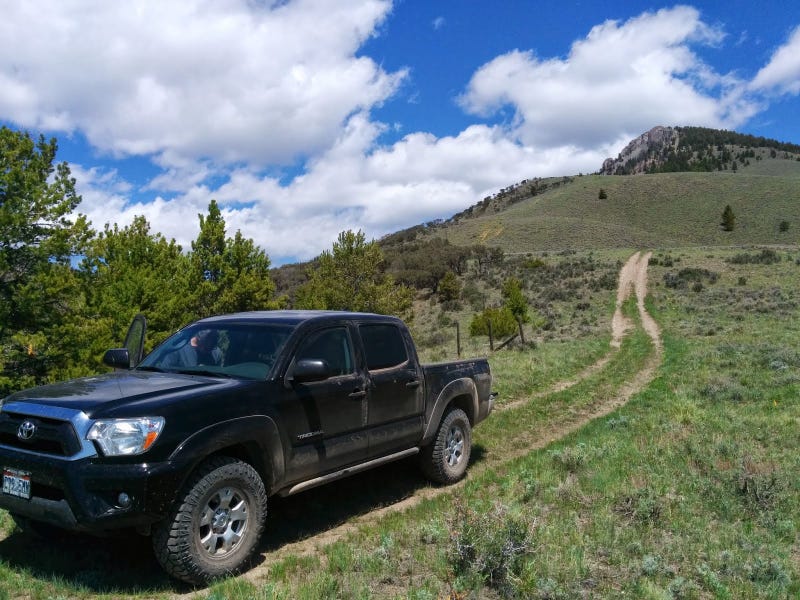 Well in my last post I talked about my journey to Idaho from Utah. Well yesterday since I didn't know what my long term plans were I decided to take the day and drive around the mountains that are behind my parent house. What I mean behind is that they are about 20 miles away.
My dad and I were looking at the our most up to date topographical map we had of the area(circa mid-nineties). We noticed that there was a trail that went through what is called Crooked Creek and then come out at Skull Canyon(that map says it's Scott Canyon but everyone I knew called it Skull Canyon. I guess our Idaho hick accents messed up the translation. My dad admitted he had never taken that way before so we decided to head that way.
On the way up I never really talked with my dad about the history of this place. There is nothing out there except a couple of homesteads that are mostly abandoned but cattle and horses still graze the ground.
i was discussing the history of some of the homesteads. My dad told me this story of when I was a little kid and I don't know why I never remembered this. Anyways, this dude named Tom O'Sullivan had a warrant out for his arrest for unpaid traffic tickets or something minor like that. Well the local cop picked him up and attempted to arrest him. Well the cop adn Tom knew each other the man and the cop explained he had to take him in. Well Tom wasn't having it and he grabbed the cops gun, upholstered it from his belt and threatened to shoot him. Tom jumped in his car and ran off to this ranch out where we were driving. My dad says he was working in his field when he saw about 5 cop cars hauling ass out on the highway. The story is when the cops got there old Tom came out the house with the gun in his hand and the cops just mowed him down. Wild wild west man!
We passed the homestead of the mom of one of my friends growing up came from. There was no one for miles of this place. Hard to imagine living that far away from everything even compared to where I grew up. The guy that homesteaded this place spent any extra money he had on prospecting the land. Hoping to strike it rich with something of value. Too bad he never did.
This land is pretty barren and I was hoping to see some trees but they were few and far between. I asked why we never grazed our sheep on this land because the grass seemed plentiful. My dad said he was always weary of grazing in this area because back in the day all of the lead that was used by the Union forces during the Cival War were mined in this area. So the area has a lot of lead. My grandpa and my dad was never too keen on using this land.
We went around the corner and our advances were halted by the buck and rail fence. The rest of the way was obvious single track and was accessible at most by a motorcycle. We decided to turn back and head up a road we saw a couple miles back. We saw the road for Meyers Creek and turned up that way. This is where I started to get excited because on the side of the hill I saw a steep switchback trail. As we turned up the road I was even more excited because it was that type of terrain challenge I wanted for my truck and new tires. As I went up making sure to keep my tire sidewalls away from the hilside, the taco made it up with no problem and as I turned the corner again there was this super steep and loose gravel hill. I wish I would have got out to take a picture but I get a little too excited when I'm on the trail. As I approached the hill I decided to turn on the rear diff e-lockers. I must admit I was pretty white knuckled and sphincter puckerd going up the hill but with the lockers in the was hardly any slipping and I made it to the top with ease.
From here we decided it would be good to take a lunch break. My boy had been sleeping the whole time in his car seat. (Side note: if you want to put your child to sleep just take him off-roading). We got out and looked at the landscape and I finally took some pictures.I wish I would have brought a jacket it was in the high 50's at 7750 feet altitude.
It was here my dad, of all people, reminded me that i could track on my cell phone. So I decided to start. Here is the rest of the journey. It starts where I left off with the fabricated map earlier in this post.
https://drive.google.com/file/d/0B29vZl…
Now we pressed forward and went down the hill then went up the next canyon. We were following this little creek up the hill when all of the sudden it disappeared. The ground in this area is very porous so a lot of the water goes underground. That is what most of the irrigation in my area is pumped from underground wells. We went up to the end of the canyon and found a group of people with horses. It turned out to be a dude ranch group and we knew the family that runs it. They group had people from Tennessee and the UK. These people pay a couple G's to do this horse trip I thought it was kind of funny they came to this area. There is a lot prettier terrain over the ridge that would be worth the money.
We turned around and went back down the canyon to this place called Warm Springs where I have been to on a couple of my own Boy Scout trips growing up. It has a pretty oasis type campsite where the locals go to have their keggars. We decided to go and get our feet wet. I was expecting this to be a hell of a lot warmer but it should be Lukewarm Springs if you ask me. I got my feet wet and let my boy throw some rocks in. Someone tried to make a plastic dam probably for skinny dipping purposes but deepest it got was 2 feet. Not worth getting your whole body wet.
We were talking of heading home but we decided to go north and go over into the next valley which is known as Medicine Lodge. We stopped at the top and took some shots.
We went down the north side trying to find this old sawmill but my dad couldn't remember where it was..With no luck we decided to head back to Mud Lake because it was approaching 5 o'clock and we were getting hungry.
Today I think I might drive up to Medicine Lodge area and drive over the continental divide. There is supposed to be some pretty lakes and water crossings that I can test my new differential breather on.