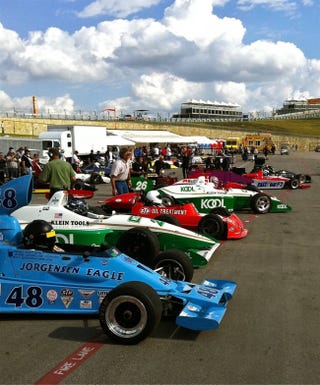 The Sportscar Vintage Racing Association (SVRA) has been doing a lot of growing recently. In 2015 alone, they've added 8 new races. It's some of my favorite racing out there because it's like the least lame car show you've ever been to. Everything there is made to go fast, and you get to actually watch it go fast.
The smells, the sound, the morbid appeal of racing something that was designed with zero safety considerations whatsoever, it really is some fun racing action. Here's the schedule from Heacock's site:
The SVRA 2015 Schedule:

Feb. 13-15, Duel in the Desert with VARA at Spring Mountain Raceway, NV

Feb. 20-22, The Southern Classic at Road Atlanta, GA

Feb. 26-March 1, The Spring Vintage Classic at Sebring Int'l Raceway, FL

Mar. 28-29, Willow Springs Historics with VARA at Willow Springs Raceway, CA

Apr. 9-12, Miami Historics at Homestead-Miami Speedway, FL

Apr. 25-26, British Extravaganza with VARA at Buttonwillow Raceway Park, CA

May 14-17, SVRA Spring Vintage Festival at Road America, WI

May 28-31, Sonoma Historic Motorsports Festival at Sonoma Raceway, CA.

June 10-14, Brickyard Vintage Racing Invitational at Indianapolis Motors Speedway, IN

June 19-21, S. California Historic Sports Car Festival at Auto Club Speedway, CA

June 25-28, Mid-Ohio Vintage Grand Prix, Mid-Ohio Sports Car Course, OH

July 9-12, Portland Vintage Racing Festival at Portland Int'l Raceway, OR

Aug. 13-16, Pocono Mountain Historic Getaway at Pocono Raceway, PA

Sep. 10-13*, U.S. Vintage Grand Prix at Watkins Glen Int'l, NY

*(If repaving is approved, date will be July 23-26)

Sep. 18-20, The Coronado Speed Festival at Coronado Island, CA

Sep. 24-27, Heacock Classic Gold Cup at Virginia Int'l Raceway, VA

Oct. 8-11, Mardi Gras in October at NOLA Motorsports Park, LA

Nov. 4-8, U.S. Vintage National Championship at Circuit of The Americas, TX
For more information check out the full announcement here.
In the meantime imagine the fun....