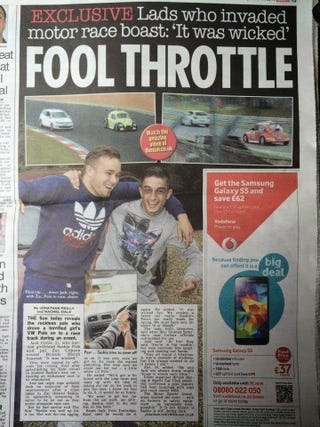 So hey, remember that video the other day of three people in a VW who snuck onto the Brands Hatch circuit during a Fun Cup endurance race and got it red-flagged with 20 minutes to go? Well, awful UK tabloid The Sun has decided to give them extra publicity, because they're scumbags who celebrate other scumbags for the enjoyment of the high school dropouts that read their toilet paper between wanks.
The worst thing is that 'celebrate' really is the word. They don't point out how extremely dangerous and almost indescribably stupid it is to gatecrash a motor race, they just describe the video and then let those loathsome cunts tell you how much fun it was! As a car fan and a racing fan, I'm a little outraged by that. This kind of thing really shouldn't be encouraged as it's so dangerous it's just retarded, and will probably lead to strictly restricted paddock access for real race fans. The screaming girlfriend they reckon was "well up for it" got the driver [in grey] arrested for suspected false imprisonment as they wouldn't let her out - he's now released on bail - but other than that they're getting nothing more than a slap on the wrists and 15 minutes of fame. They should lose their licences and be permanently banned from Brands Hatch. If they do it again they should be banned from all UK racing circuits permanently.
You wanna go out onto a race track and try motorsport? You should've made something of yourself when you had the chance and bought a racecar (which doesn't have to cost a lot), or even just saved up a couple of hundred quid for a trackday. Bastard. You shouldn't get away with being such a prick...