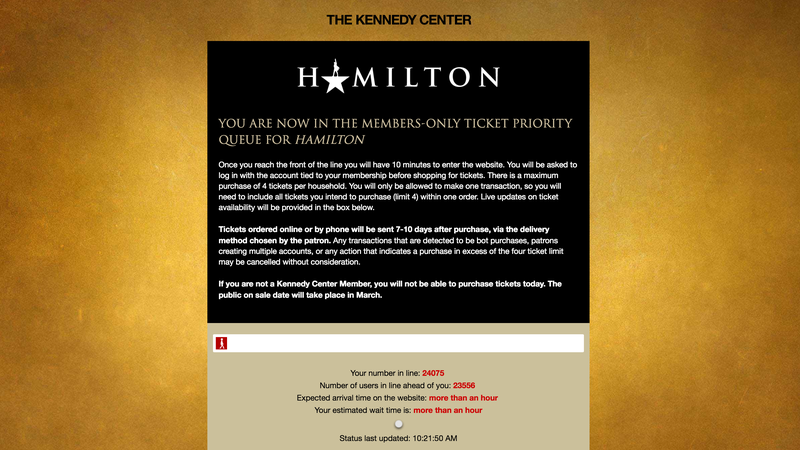 I saw Hamilton in Chicago a couple weeks ago with my wife and mom. My mom wanted to do something fun after my grandma's 94th birthday party, which stressed her out because my grandma and her sister are pains in the ass. But now mom wants more Hamilton, and she's in the middle of the Caribbean.
This could very well be the most first world problems story I can possibly think of, and it's happening to me right now this very moment. Be prepared to roll your eyes thoroughly. I'm not kidding.
My dad got a fancy new job that he starts next week. He's still on the payroll at his old job through the end of this week even though he's not actually working there anymore. Because his old job was fancy too.
My mom decided that they needed to get away and do something before my dad starts his new job. Keep in mind, my parents live in the DC suburbs but have another house on a couple of waterfront acres outside of St. Michael's, MD. They have boats and a pool. It's all very lovely. This is their back yard.
But nooo, my mom decided they need to get away because it's not the nice green summer scenery you see in the picture above right now. It's not "let's go for a nice spin around the estuaries and creeks that flow gracefully into the Chesapeake Bay" season at the moment. So she booked some cruise on some bigass cruise ship last Friday, which they flew from DC to Tampa to board on Monday.
I first learned about this cruise from my dad, who I was talking to on Saturday about something else, and then he mentioned they were going on, as he described it, "one of those godforsaken giant ships with thousands of people, but your mom wants to go so whatever, I didn't want to argue about it."
Then he mentioned that they listed me as their emergency contact. You know, in case the ship is run aground by a drunk captain, or experiences an outbreak of norovirus causing hundreds of passengers to spend their trip violently shitting.
He also mentioned that the night before, my mom was supposed to have driven from the shore house back to join him in DC, but she had been meaning to visit some stores along the way, and fell asleep on the couch until 9 pm and whatever store she needed to visit was closed, so she stayed the night out there and was driving back to DC while I was talking to my dad.
Shortly after finishing the call with my dad, my mom called me, and also told me about the cruise they were going on, but of course she was much more excited about it than my dad. She asked if my dad had mentioned it to me, but I didn't want to let on that the "surprise" had been ruined, so I told her no. After describing the cruise, she then asked if I could do a HUGE FAVOR FOR HER.
They're Kennedy Center members, which basically means they pay some yearly membership fee to get the privilege of buying tickets before the proles do. But they're only prole-level Kennedy Center members because they don't want to blow even more money on the non-prole level membership.

Hamilton tickets were going on sale for prole-level members today. There's internet on this cruise ship, but the process for buying tickets to hot shows at the Kennedy Center is very convoluted, where you first have to sign in to some online waiting room, and then at a certain time you get a place in "line" based on when you signed in to the waiting room.
Then she started trying to tell me all the overly convoluted details of the dates and seats she prefers, and I was like, "Mom, I'm not going to write all that down. Send me an email about this." Then she told me her credit card info that I did write down.
She had my dad ask his new job for any dates he would have commitments where he shouldn't book certain personal events. She forwarded me that email, with some additional details.
See dates below for when we cant go. Also not Sept 9, 10, and 19. Not July 4th weekend. Weds, Thurs, Friday, Sat, Sun nights generally good. Saturday, Sunday matinees ok too.

Our preferences are these sections, they are listed in order of our preference:

Box tier: boxes 2-8,boxes 3-9, front row of box if necessary can go boxes 10-12 and 11-13

Center orchestra: rows G-P, aisle seats: 101-4, 122-125

Orchestra right: rows G-P, aisle seats 2, 4, 6, 8. Ok to go as far as 16

Orchestra left: rows G-P, aisle seats 1, 3, 5, 9. Ok to go as far as seat 17

Center Orchestra: rows R-W, aisle seats: 101-4, 128-131

First tier Row A center Row A 201-4, 213-216. If no aisle, get whatever you can in this section

First tier center right, Row A 102-108. Ok to go as far as 18

First tier center left row A, 101-7. Ok to go as far as 19.

If you cant get aisle seats, then get what you can. Not second tier unless that's all they have.

The best thing to do is look at the Kennedy center opera house seating chart. Try not to get anything extreme left or extreme right.


Also please view the video at the link in the forwarded email for instructions.
According to an email from the Kennedy Center that my mom also forwarded me, the waiting room opened at 9 am EST and turned into a place in line at 10 am EST. I'm in Central time, and normally I head in to work around 8:30 am CST, right in the middle of the waiting room period. So I formulated a brilliant plan of connecting my laptop to my phone's hotspot, signing in to the waiting room at home, then bringing my laptop to work with me.

This morning, I did my hotspot plan, which all worked swimmingly. The only thing is, I tested out signing in to the waiting room before 9 am EST and it let me in. When it flipped over to the spot in line, I was number 24,075 in line. I guess a few other people tried signing in before the official 9 am EST waiting room start time. What a load of shit, Kennedy Center email instructions!
The other small wrinkle is that even though I asked my wife where that piece of paper with my mom's credit card info on it was, and she told me it was near my wallet, in my rush to get out the door, I forgot to bring the thing with me. She's now volunteering at the farm animal sanctuary taking care of the cows and pigs and llamas and whatnot, so she can't text me a picture of the paper.
Which means that if I get to the front of the line before she gets home, I'm going to have to put these tickets on my credit card and have my mom pay me back. Oops.
Luckily, the way this line is going, there's a decent chance that I'll still be waiting by the time my wife gets home.
Hope you don't get norovirus, mom!
UPDATE: My wife just got home from volunteering and is going to send me a picture of my mom's credit card info. I'm sitting at 13,946 in line now. At this rate I'm not even sure I'll get to buy the tickets before I need to head home from work.
UPDATE 2: My work day is almost over and I'm still sitting in this virtual line. I also scrolled down and noticed that there's a place to put in your email and get notified when it's your turn in line, and I can click the link in the email to bring my spot in line up any time, so I don't actually need to leave my computer on the waiting room page constantly. But I left my computer on the page constantly anyway.
But hey, score one for battery life on my mid-2014 Macbook Pro 13. I unplugged it at home a little after 8:30 AM, and it's been sitting on this page all day on the lowest brightness setting, and I'm still at 26% battery.

Hope my parents like their goddamn tickets.