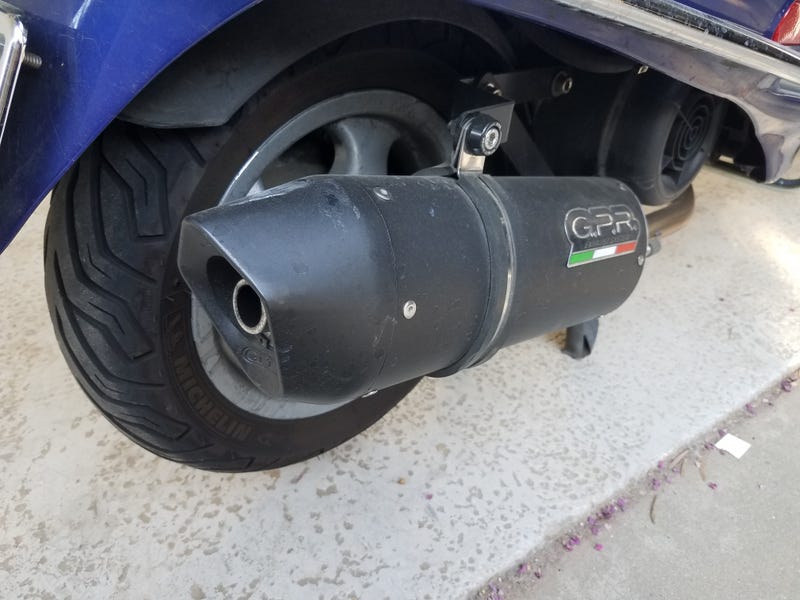 My pal Dave and I are scheming to finish the stalled Vespa restoration. Here is the challenge:
The ET4 was Vespa's first 4 stroke, and its return to the US market after decades of absence. I think it is when they got away from all metal bodies, as the ET4 has metal on the front of the leg shield, and covering the rear and engine, but some plastic fairings around them. I have replaced all of the plastic with unpainted OEM parts.
I need to sand some scratches on the leg shield, and I need to pound out some dents on the haunches. Also strip and repaint the metal body, which means removing it from the frame. Dave wants to come up from LA for a visit to pound out this project. He will be paid in beer and grilled meats, which is the auto enthusiast version if crypto-currency.
Some issues:
1. Rent or buy sprayer? Can I buy a reasonably priced compressor for this that I can use foe air tools down the road? Should I rent? Bite the bullet on a small compressor to start collecting air tools?
2. Gloss or pearl white? I originally planned for pearl, but I like gloss the more that I think about it to make the graphics pop. Dave rendered this, and I had decals made.
He rendered the wasp beautifully and I need to get the stripes. Clean, bright, gloss white has an appeal
3. If he comes to visit for a few days, I feel like we could tear it down and get this done. If I have to buy a compressor and a few tools, those can come in handy later. Maybe this has to be 2 trips. Thoughts?
What do you think, Oppo? Or should I just sell it and buy a Ruckus?