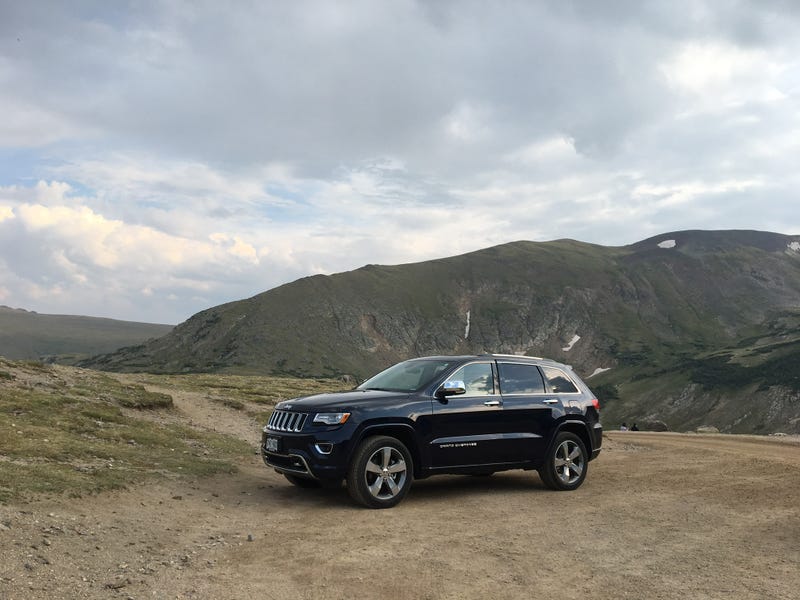 Last week, I dragged my family up Old Fall River Road, a dirt road that leads up to the Alpine Visitor Center in Rocky Mountain National Park. Unlike my other family road trips, we took my wife's Jeep, as the back seat has a little more room than the Tacoma. Along for the ride were my sister and brother in law, in town on vacation for the week. My brother in law was really excited to go to Estes Park and visit RMNP as well. It's only a little over an hour from my house, so away we went.
This can hardly be called off road, as it's a groomed dirt road that can be easily travelled by 2wd cars. It was, however, my wife's first time driving on a narrow mountain road. Probably the best news for her is that the road is one way, which meant no meeting any opposing traffic, something that really scared her when we went up Jones Pass a couple of years ago. Going late on a Thursday afternoon, the traffic was minimal. Apparently, the road can be a parking lot on the weekends. The first stop along the way was Chasm Falls, a 25' waterfall just off the trail.
We continued on for the remaining eight miles over tight switchbacks. About half way, we encountered a HUGE elk, but didn't act quick enough to get any pictures. It had an absolutely massive rack (ha).
 My sister is quite afraid of heights and had a white knuckles grasp on both head rests, as she was sitting in the middle in the back seat. Luckily for her, most of the tight, steep switchbacks are nestled in the trees, thus obscuring how far the drops are.
Near the top, we were finally above the timberline. The road at this point is mostly straight, and opens up to some impressive views. Every time I get out into the mountains, it just gets me more excited to get out again. I mean, with views like this, how can you not?
From here, we took a short hike to nearly the summit of a short road side trail. Only two of us attempted the hike up, and we didn't want to leave the rest of the party waiting too long, so we timed it for 15 minutes up, 15 minutes back. Ultimately, that left us probably 10 minutes short of our goal. There were cute little marmots all the way up, hanging out on the rocks. Apparently, they're quite used to people and happily posed for pictures.
The summit of the road is at 11,796' above sea level. Unfortunately, the visitor center was closed when we got there, but we still walked around and took in more of the views. From here, we headed back east into Estes Park along Trail Ridge Rd, no less white knuckle for my sister even though it is paved. I was pretty proud of my wife for being a trooper and driving the dirt road up, although she was probably more comfortable driving than riding. It also marks the first time her Jeep has been "off-road".
Another weekend, another road travelled. If you ever find yourself in RMNP, I highly recommend taking this route. Easy road, great views, and everyone in my group had a great time.