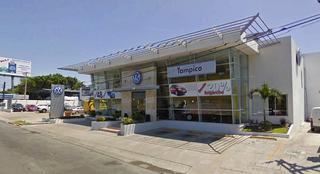 Alright, so, if you don't know who Oliver is, or why he would be mended Read: When It First Broke Down, and The first steps to mending it.
So, as you might have read (Thank you for doing it!) the ignition coil with which Oliver would finally be happy to hop about the city was ordered with its warranty. Time for arrival was told in true Mexican style:"Uh, try in a week or so." Yeah, not a very earnest answer, but I've come used to it. Well, after 6 days of randomly sneaking to see Oliver and thinking when I can finally use it again I went to the Volkswagen dealership. The Ignition coil has arrived!
When I went to the dealership, I didn't have any hopes for it to be here. I had a bad experience at my local Autozone where I order a cable of the handbrake that took a month and a week to arrive. Oh, and I wasn't even notified, I went to the Autozone for a hydraulic fluid and the employee recognised me from all the times I had gone to ask if the piece had arrived. He told they had the cable, and to my surprise, I finally installed it. But thats another story.
I reached the dealership and saw what I wished to be my christmas tree. Boxes and boxes of VAG group branded bags with VAG group branded products. I think VAG packaging is the Apple of automotive car parts. I went to the desk and gave my receipt from last time. They told me with a fake as Minute maid lemonade smile they had the piece. My smile then, was real. Like, girl scout lemonade real. But obviously there was a catch. I stayed 40 minutes in the dealership waiting for the order to be passed and the warranty to be re-started. Or respawned.
Those 40 minutes I say several Jetta's, a Polo, a CC, Touareg, Beetles, and concluded that If I had a choice, it would be the GSR Beetle over the DSG CC. After all that time, the same employee came me with the confirmation paper. I stormed off to the workshop with the piece, but the main mechanic wasn't there. Great. I went to cut my hair and make time before it was 7 P.M. when they closed. But when I reached the place at 6:55, the mechanic never returned, but was assured the piece would be installed tomorrow morning. If all goes well, Oliver will return to the streets this wednesday 21st. Me Happy!