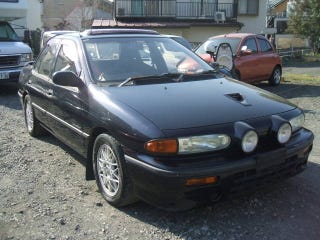 1992 Isuzu Gemini Irmscher R. Same as this one in red, with the factory mounted optional rally lights! 4WD, about 185hp, "rally tuned" suspensions or whatever that means and something so damn rare that I'm sure someone, somewhere, will want it!
I spent a bit of time with it (but took no pictures, which is why you end up with one I found on Google instead) and it looks and sounds great! I didn't drive it though, so we'll see how things go in a couple of weeks! Genuinely exited!
Today I also bought another Rover Mini, a Mk3 Supra with the 2L Turbo engine and a cheap Honda Beat. But weirdly, the Gemini is the one I'm the most stoked about haha.