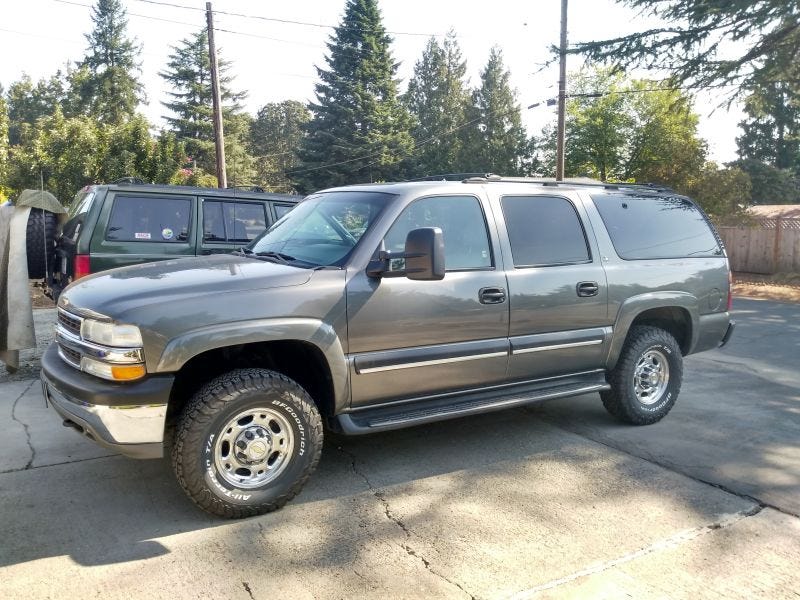 Update: It's a thing I still own! I vacuumed it and filled it with gas last weekend, then I drove it to work one day this week. That's the most action it's seen since I bought the Volvo.
I love it dearly, and since the wife has decided not to turn in the keys to her company car, the Volvo will most likely be resold and this magnificent beast will resume daily driver responsibilities.
Since I bought it in July-ish, I've done:
Shiny new BFGs
Radiator
Tall-guy mods to the driver's seat (curse you, moonroof)
Replaced all of the speakers and the subwoofer
Installed my old Kenwood head unit that has followed me for years
Installed the newer-style GMT800 tow mirrors (they positively RULE)
Alternator
Water pump
Fawnceh MSD ignition wires
New spark plugs
Mild torsion bar leveling
Diablo canned tune
Repaired solder joints in the EBCM
Cleaned EVAP purge valve
Current problems:
The rear main seal is slobbering quite a bit
The leather on the driver's seat bottom looks pretty terrible, but no big holes/rips yet
A few broken pieces of old-new-GM interior plastic that still need to be replaced
Fuel economy so far:
12.5 city, 12.5 highway, 12.5 hypermiling, 12.5 "spirited" driving, 10 while beating the everloving snot out of it with a big travel trailer in tow. I did have one freak tank that delivered 14.7 mpg... I don't know how or why.
It's a phenomenal vehicle that can do ANYTHING (except get decent mileage), tows like a champ (though more power would be nice), and is infinitely superior to the pile of rubbish GMT400 half ton it replaced.