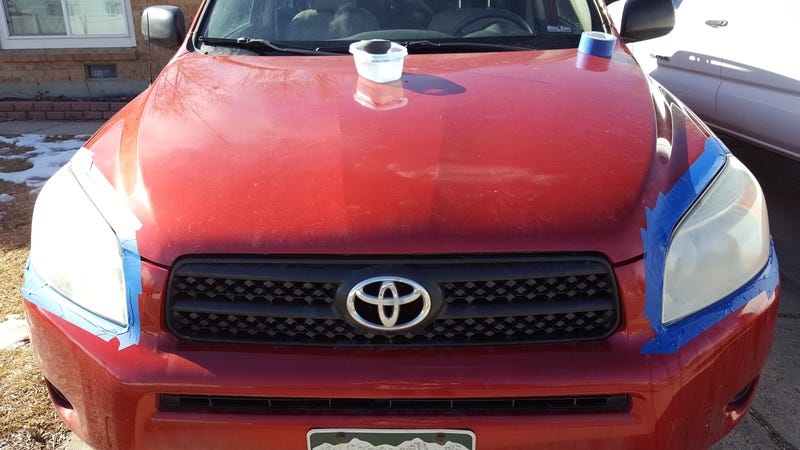 While I flip you all off in these pictures, please enjoy the restoration of my wife's headlights. That's right, in these before, during and after pictures, you can see something we all want; Barry Meguiar having something to do with my wife's headlights. And, a drill is required...
This is accomplished using the Meguiar's headlight restoration kit. $19 at Wall-Marts. (Pronounced like any sensible person who grew up in mid-Missouri)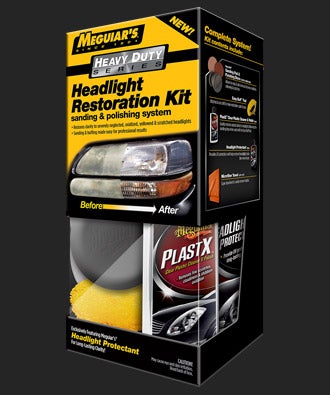 The directions are simple. Tape the headlights so the sand paper and compounds don't mar the paint. Here's the beginning. Driver's right headlight:
There's a hand-held knob type of thing. It's black too. You hold it in your palm and by the magic of semi-velcro attachment, you put 1,000 grit sanding disc on the bottom and go to work wet-sanding. Afterward, you get this:
Now, replace with a 3,000 grit pad and do the same. So far, we see the results below. A foggy mess of gritty dust-water and damp, peeling tape:

After some drying and re-taping we now got on to the polishing compound with the buffing disc mounted to the drill. Going to high speed right away makes for many yellow fabric strands flinging all over the place until the cutting compound works in.:
With one done, I was pretty amazed. Continuing on, we get the finished product:

Total time invested? more than you really want to spend unless it's a nice day with nothing to do but decompress after a bunch of crap in your daily life, where it's not a bad time. It all ends with a "UV protectant coating" applied that does nothing that I can tell the difference with, but you've now got some freakishly new looking headlights. We'll see how long my wife's shiny and new headlights last.
(puns and jokes wherever found are intended)
Now, later when the weather is more consistent, I'll work at removing the baked on sap drops the a**hole tree next door pissed all over our cars. (Thank god it was cut down this past fall)
If you don't like the $19 and the time consuming multi-step process, you could just apply lacquer thinner thinly and lightly with a shop rag for nearly the same effect and save a ton of money. That's what the pros do at the used car lots.