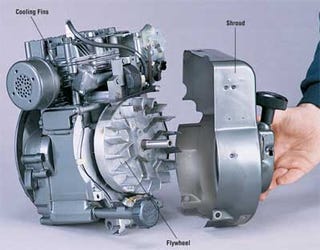 I could really use your help.
So as part of my job, I have the pleasure of training our new hires. Part of their job is assisting customers in finding replacement parts for small engines, the kind used in outdoor power applications, you know, Briggs and the like.
They by no means are expected to be able to troubleshoot or diagnose problems, it's mostly just assisting customers in correctly interpreting parts diagrams and schematics. I have found however, that a basic understanding of how small engines function makes the job much easier.
My goal is to give my students as much knowledge as possible without overwhelming them. Most of them have little to no experience coming in (apparently kids don't grow up on mini bikes and go karts anymore, thanks Xbox) so I have to keep things fairly simple and easy to digest.
I've been doing this for a few years now, but there is always room for improvement. I have a lot of material I've generated on my own, and a few videos from various manufacturers, but I'm looking for any ideas you brilliant oppos might have. Good books, websites, animations, etc.
How did you first learn the basics? Did anyone ever offer a particularly clear and concise explanation of something related? Any help or tips would be greatly appreciated.
(Photo from howstuffworks)