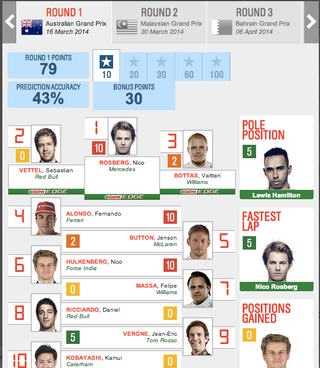 Top 3 Scores Are As Follows (Repost For Evening Peeps)
1. Wheeler Dealer F1 (Me) - 79 Points (43% Accuracy with a worldwide ranking of 292)
2. Weemaes - 72 Points (37% Accuracy and rank 662 overall)
2. Kate's Dirty American Sister - 72 Points (45% accuracy and rank 717 overall)
2. Alitalia Racing - 72 Points (37% Accuracy and rank 734 overall)
3. Zonda500 - 69 (34% accuracy and rank 977 overall)
3. Letters to RoGro - 69 (34% accuracy and rank 977 overall)
Almost everyone remembered to make their pics, we only had 5 out of 45 people forget, which is nice.
Currently sharing last past with a amazing 24 points, was EdlovesAbarth and Velocity860 both with a 3% accuracy. Better luck next time.
Its not to late to still join, we will play both by overall season points and race by race points. If you would like to join click here: http://gppredictor.com/league/join/id…
its free and you only need an email.