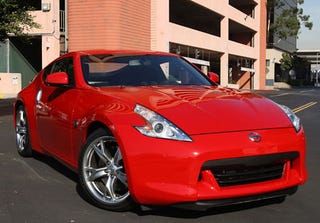 Good morning Oppo! I have a friend who needs our help finding a car.
His online handle RackAttack. He's an autocrosser and sim racer, and in 2012 was one of the final 4 contestants at GT Academy. He's looking for a 370Z, but I'll let him handle the details:
I'm on the hunt for a 370z to replace the RX-8. I'm pretty excited about it. Of course being an autocrosser, I have a very specific set of filters to get just the right car for classing purposes:



Base model (Touring adds 50lbs)
Sport Package (for better diff, bigger wheels, and SynchroRev Match, which I test drove and is extremely cool)
'09-'12 (it got 50lbs heavier in '13)


And my color preferences aren't making it easy... Go look at autotrader and tell me how many red/blue/yellow ones you see. Then count the black/silver/white/grey ones. It's depressing to me.
He's in Southern California, but I would imagine he'll go pick up a car from wherever.