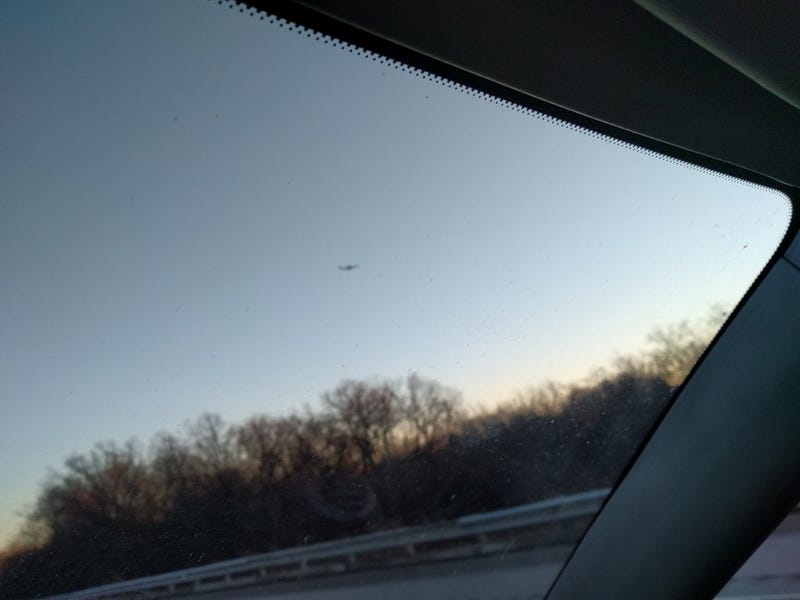 Yesterday at around 5:10 PM I drove past Cicero on Eastbound I-94 when I spotted a lovely quad engine jet landing at O'Hare (KORD/ORD). It caught my eyes because well, it didn't have the characteristic 747 hump and its engines looked too small to be on an A380 (though because the distance and me having to pay attention to the road, I could be wrong with that).
The plane did look to be a widebody too, just not double decker. It had red engines, white (or silver) wings, and a blue vertical stabilizer. I also thought I saw "KLM", but KLM doesn't fly a livery like that. 

I don't know of any definitive flight trackers, so I tried Flightaware. Of course though, by the time I checked it was well past whatever it was landed.
The shape and profile reminded me of an A380.
Though now that I've had about 24 hours to think about it, I'm almost certain it was an A340:
Plane Oppos, is there any way to check what aircraft have recently touched down by model? I see lots of cool planes in my travels, but never an easy way to check what kind of plane is currently landing unless I pull out my phone while driving (bad).