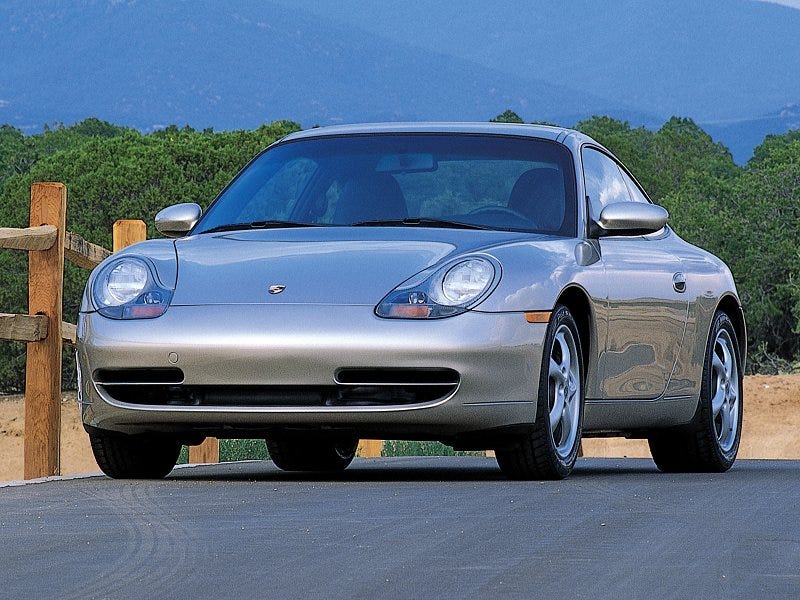 I Like the 996! I don't know what it is about it, but I do! More specifically, the early 996 model's. To me, they just look right. It's the perfect look for the 911 of the early 2000's, because it is.
Even if it looks like the much cheaper Boxster, and the overall quality isn't nearly as good as the previous 993, there is one good thing about the first of the "wasser-generation".
Today, anyone can afford one of these for a good price; simple Carreras and Carrera 4's can be found for below $30k! If you want a cheap water-cooled 911, look no further! the value's on these car's have depreciated so much in recent year's, that 911 attainability has never been so realistic.
But of course, being realistic has it's own caveat's. There's a reason why these car's can be found for soo cheap and later become money pits. To name a few, the notorious IMS bearing's which if not replaced, will always lead to a ruined engine, cracked cylinder heads and liners come to mind. And the 3.4L engine's reliability is also a problem. Then there's also the problem of rust; yes, a 911 can rust if not properly taken care of.
All this aside, a well sorted out 996 can potentially be a fun car and the entire 996 shouldn't be condemned as the worst 911 or even as a bad car in general for reliability problems; each 911 generation had it's own unique problems. Porsche never released a bad 911, just good, decent and great ones!
Personally, if I were in the market for a 911, I'd skip over a 991 and go straight for a G-model; 1980-1989 period to be exact. Those impact bumper's, and that air-cooled sound, it is soo much sexy. A 3.2 Carrera will always be the first 911 I'll ever buy.
This one, a simple coupe, the dark blue exterior with a black interior, no whale-tail for me please. This is the 911 I want forever.
That's all. PollTime: 911 Edition will be posted tomorrow afternoon!