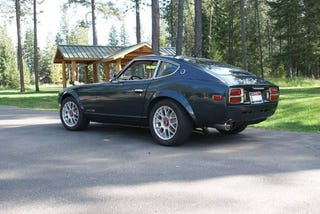 As some of you know, I sold my Baja Bug on Saturday and I'm already looking for another car to take it's place.
I was browsing Craigslist last night in some southern cities and I ran across this gorgeous 280Z in Charleston, SC. From the description and pictures, this is my dream/ideal Z. I want the 280 because bigger engine and this one is converted to carbs instead of fuel injection, which is another thing on my list of wants for a Z.
I'll be going to Charleston on May 25th for vacation with my family and, this is a long shot, but if possible I'd love to buy it there and drive it back to STL. I've emailed the seller already requesting more information and pictures of the car and I'm waiting for a response.
I'm thinking that if the rest of the pictures he sends me check out and I'm still interested, I could put a deposit on the car ($500 or $1,000) and have him hold onto it for me? When I get down there in May, I'll obviously check it out in person and then buy it on the spot if the car is what I want. Is this idea too insane to work?
I need your input, Oppo!