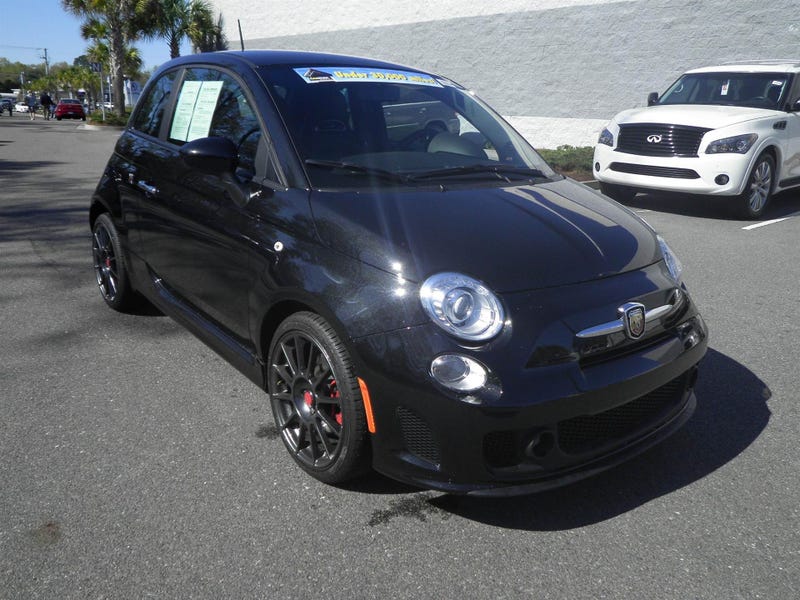 I test drove the Fiat 500 Abarth pictured above about half an hour ago, and I'm smitten. As some of you know, I've been having Jeep problems and am looking for a trade-in... I think I've just found one. The seating position was my main concern as many don't seem to like it, but found it less odd than the position in my 2002 (plus the steering wheel in the '02 is slightly off-centered... wtf) and far more comfortable than I expected. Acceleration was good and responsive. Sure, its not as quick as our JCW Cooper S, but I don't care about a fraction of a second to 60 in a car that is as fun as the Abarth.
Truly, the Abarth is one of the top 5 most fun car I have ever driven after a 1974 Porsche Carrera RS and a Ferrari F430, and either just behind or tied with the 2002. I loved it, which is why (drumroll please) I've decided to buy one.
Now, there are some issues. I can't purchase the one I test drove now, which was absolutely mint and only had 5,000 miles on it because I need my dad present. The Jeep is in his name for insurance purposes, so I can't trade it in without him there. But, because the Jeep needs brake work, which might cost more than his plane ticket to South Carolina (where I am this year for college), I might be able to convince him to come for a weekend, hang out on the beach, and sign over the car. If that doesn't work, I'll have to find another one and get it this summer. Either way, in the next few weeks/months I will likely be the owner of a black 2013 Fiat 500 Abarth, preferably without all the red give-me-a-speeding-ticket bits, but thats not important.
Also, I saw a Pontiac G8 GT on my test drive, which was a treat, and my transfer application was accepted by Boston University this morning. Today is awesome!
I would also like to thank Oppo and Ferrero1911 for answering a bunch of my questions in the last few days.
Have some more Abarth goodness, and a 2002 for good measure.