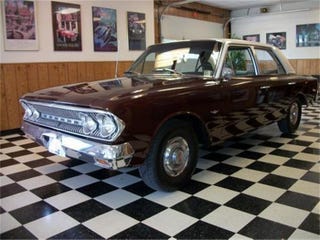 Oppo,
I am sorry for my absence over the past few months. I've wanted to spend time with you. But I've just not been able to find the time. I've seen your friend FP often, maybe he's told you. But I want to be with you Oppo, so here is what I've been up to. I sold the scout I shared with you on occasion. Sorry, but it was time for it to go. I also sold my WRX. I moved to Detroit. Started a new career with Chrysler. Got a Shiny new Jeep to drive, which will be replaced with a shinier, newer Ram in a few weeks. Now, I'm moving again, this time to Louisville.
I also got a new car, and I want to share this one with you. Its my 5th AMC and 10th car, not including my company provided rides. It's a 1963 Rambler Classic 550. That sounds fancy, but the 550 series was the base model. She was the car of the year according to Motor Trend. Unlike most 63 Classics, mine has its factory installed 287 V8. You see, Oppo, the Ambassador was the Classics prettier twin sister, and she hogged all the V8's until February, 1963. Only about 300 Classics had the baby 8 that short production year. She also has 3 column shifted, manual gears. A mirror, heater, AM radio, and clock round out the short option list. She's not the prettiest car, but she's aged amazingly well. Her original blue ceramic coated exhaust still hangs underneath. The original brown primer coats the torque tube driveline. Some of the hoses still have AM logos on. Most of the paint seems to be original. The Wisconsin insoection sticker from 1969 sticks to the window to this day. I even signed a title dated 1969.
But enough about me Oppo, what's new with you?