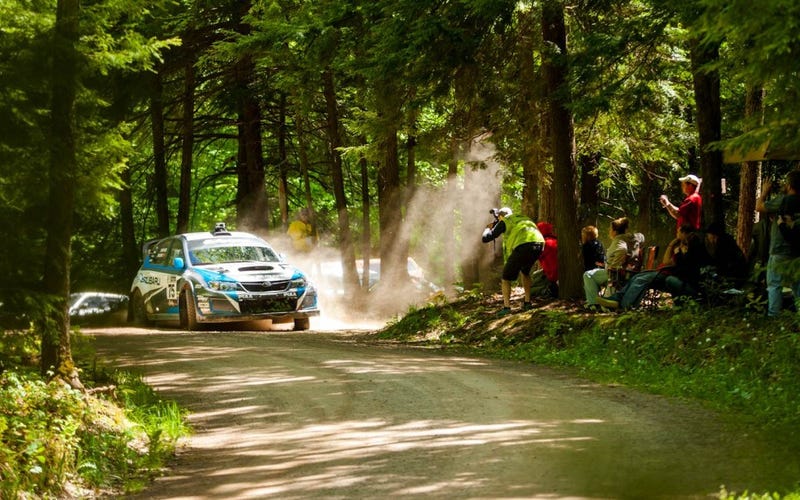 With the mega Oppomeet in Illinois coming up in August, and events like this month's Oppomeet: Boston popping up, I thought I'd propose another one (because why not), this time around an event. So, how about Oppomeet: Susquehannock Trail Performance Rally?
A bit about the rally to start: I love this rally, because this rally is scary. The roads are some of the nicest and smoothest we competitors ever see, often with good grip and good camber. These roads beg for you to go fast. There's a number of tight hairpins that are great to handbrake or Scandi flick into, and the scenery is gorgeous. But, and this is what makes it scary, there is zero margin for error. The roads are narrow, often less than 13 feet wide, and the trees grow right up to the edge of the road, and sometimes into the road. These trees give zero fucks and will end you if you don't respect them. Where there aren't trees there are big exposures (cliffs/dropoffs) ranging from 20 feet to 200+ feet. I love this rally because you have to be perfect here. No exceptions.

As for what makes it a good event for an Oppomeet, this is one of the most spectator-friendly rallies, with five excellent official spectating locations covering a total of eight stages, plus a side-by-side spectator stage run at the fairgrounds to end each day. Most spectating is free (as rally should be), with the Waste Management spectator area costing $7 (because private property) and the fairgrounds spectator stage is $5 each day. Not too shabby. Also the Waste Management spectator point includes one of the two biggest jumps in the championship.
There's plenty to do outside the rally itself. The event is held in the Tioga State Forest, which offers hiking, biking (both paved trails and mountain bikes), kayaking when there's been recent rain (Orlove and I did this last year), fishing, and camping. It also offers dat view:
For additional activities the town has a number of shops, including a geeky bookstore with cats, a games store with demo games you can play for free, a movie theater, an ice cream shop, a number of restaurants and bars, and the creepiest statue ever. As a bonus the day after the rally (that would be Sunday, Sunday, Sunday) the SCCA holds a rallycross on the same fairgrounds spectator stage the rally used the day before. Walk-ons welcome, provided they have helmets. There's usually a few rally competitors who stick around to do the rallycross.
My plans for the event are still a bit up in the air. I'll definitely be at the rally, but my arrival and departure dates are going to depend on who I'm co-driving for and how much I get paid for this one. Best case I'll be arriving Monday May 30 and leaving Monday June 6. Worst case it'll be May 31-June 5. I now have my plans sorted and will be arriving May 30 and leaving June 6, so I have a few extra days to actually explore and do things. Woo! The ideal meet days would obviously be June 3-5 when all the action's taking place. For anyone interested in overnighting there is ample camping in the parks. Hotels are harder to come by as all the hotels in Wellsboro book up months in advance, but there should still be room at some of the hotels in Mansfied, or across the NY border for those willing to have a bit of a commute (that's where I stayed my first year).

I can work out some spectating/activity plans and schedules if people are interested in coming out. So how about it, anyone up for a rally edition Oppomeet?