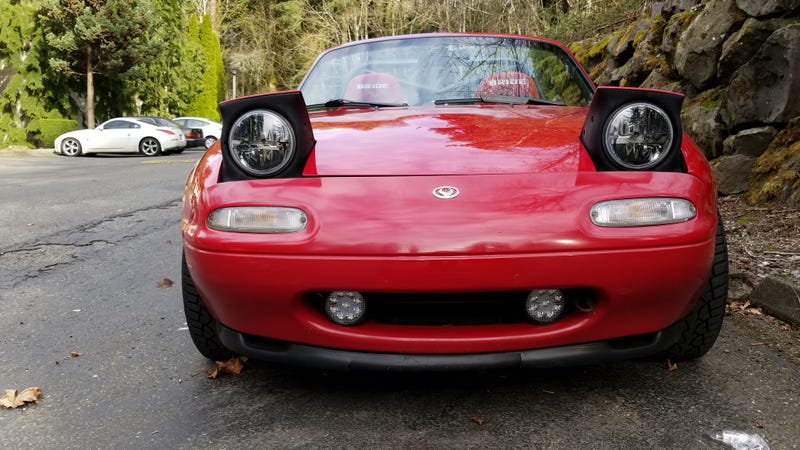 Wherein AestheticsInMotion rediscovers caffeine, loses a puppy, goes on a work adventure and reviews two new pieces of gear that you should probably pick up immediately.
Let me get this out of the way first. I was so unbearably unhappy upon hearing my alarm this morning, I seriously contemplated shutting my phone off and driving up into the mountains for... Well. Forever. Society can suck it. I had finally fallen asleep at 1am—slept terribly—and woke up groggy with a big day of work to take care of. Pure misery. Losing an hour is consistently terrible, but this year's "Fall back" hit me like a ten ton hammer.
However, there was a silver lining. In my supreme wisdom, I had anticipated everything I just described the night before, and while grocery shopping decided to—*gulp*—buy an energy drink.
"Whoopti-freakin-do" you say, on your eighth refill at the coffee machine today, with a pulse that could best be described as "Techno circa. 2007"
Okay, but... Here's the thing. A few months ago I completely cut out caffeine, and haven't had so much as a milligram in the last 60 days. Why? Because I had dreams! Aspirations! Visions! I believed that I could destroy my coffee bean dependancy and craft a new me, able to be perky and energetic at ALL TIMES, irregardless of the number of hot, brewed beverages I crammed into my drinking hole.

Hubris at it's finest.
What actually happened was I went through a week of pure hell, between the headaches, exhaustion, headaches, minor depression, inefficiency at work, and did I mention headaches? Yeah... That first week was rough. I started out my detox as wide-eyed and innocent as a frolicking doe, and by day five I was a jaded, snarky little bastard with a thinly veiled loathing for humanity. It was like being told you could pick and choose any car you want to drive each day for the rest of your life (AWESOME) and then finding out that you were limited to current day Mitsubishi offerings (oh....).
But! Made it through.
"So how did you feel for the next two months, drug free?"
Well, internal voice pushing the conversation, let me tell you!
I felt like shit. Ditching caffeine didn't really make me feel any better. My sleep didn't improve, my energy level didn't magically go up to caffeine levels, my general irritability went up, and what I didn't realize until today is that without that caffeine boost I've been going SO SLOW at work. Gaaaaaah.
So. Long-ass entry out of the way (I love you all for indulging my insanely long-winded, rambling writing stylé [there's an accent for even MORE style]) let's get back to where I left off.
Woke up today feeling dead inside, with one and only one hope to make it through the day. My energy drink! I picked some random one spotted in the health food section in the hopes that the "organic, raised by gluten farmers" beverage would go down without making me feel like my insides were rotting away. You know the feeling.Well, it was no Slurm, but it was drinkable, and with 26g sugar in the 16oz can, not too sweet.
Guys. Guys. Guys. Guys! It worked. Like, really worked. Reaaaaally well. 160g caffeine and hoooooly sheeeeet after 20 minutes I was HYPED. I... Might have gone super-saiyan?? Seriously. Bear with me here. I drove to work with the top down (did I mention this was the first day to be sunny and 70° in six years give or take?) and was blasting Ozzy while singing along at the top of my lungs. People were looking at me like I was crazy—happy?! On a Monday?! After daylight savings?!—but I paid the plebes no mind.
At my first job, I opened a gate outside to bring a ladder through and a pitbull puppy went running by, escaping to God-knows-where. Now, I had NO idea that I needed to be careful with gates because of an escape artist, actually... I didn't even know there was a dog there. Homeowner didn't mention that, just said, "when you finish outside, come on in." She still blamed me for her dog getting away though. Ruh-roh. I did feel bad, I'm not a monster, but.... I was feeling so damn happy and energetic that it took all I had not to grin like an idiot the whole time the lady was looking for her dog. Anyways, I kept working—much faster than I've felt at work the past few months I'll add—and quickly finished the exterior, enjoying every damn second of work out in the warm sun.
She ended up deciding not to have the interior of her home done today, so after asking for the name and breed of her still missing dog, I went to house two of two, an hour early! Still bursting with energy. Still oddly happy.
They were putting the home on the market the next day, so I had to work around a photographer, a plumber, and a handful of dogs being shuffled around. And you know what? Everything went smoothly! The photographer was incredibly nice, and we both went out of our way to make sure we didn't get in each other's way. Oh and I feel like I should share my awful parking job. As I was coming into the neighborhood, I saw a Z parked a good foot away from the curb. Laughing to myself, I parked behind the Z.
And upon exiting the vehicle realized that I too parked a foot away from the curb. D'oh!
This house was pretty good sized, but just like the prior job, I felt ten times as fast, and honestly time just seemed to move differently. Caffeine is a crazy thing. I can honestly say it improved every aspect of my work, from actual movement speed, to decision making acuity, to the desire to interact with people! That's... Dangerous. But kind of awesome? I don't know. The only thing that managed to even slightly budge my euphoria today was the homeowner of the second home (a really sweet lady) insisting on taking me on a tour of the interior to show me EVERY SINGLE WINDOW. People. Stawp. This is not necessary. You don't need to take me into all six bedrooms, saying "and here's another bedroom, you can see the windows here..." ESPECIALLY after I had just finished the exterior. Although that really doesn't matter because windows don't get missed. It's pretty easy... You open every door, and go along every wall. Boom. Oh and when you finish the tour with "I guess it's all pretty self-explanatory actually, I probably didn't need to show you everything" I just want you to realize the level of self-control it takes to refrain from calling a S.W.A.T team on you every night for the next month. Stop it!
Oh and they had heated floors. Did I mention that? Like, everywhere. Tile and wood, all heated. Neat.
So that was that, and it was time to head home! Early! In the sun! Whooo! I took the scenic route, and oh boy did I see some scenes. Enjoy a small slice of my work commute.
I'll write the gear review part later. This is long enough! Oh and about the whole caffeine thing.... I'm never giving it up again. The glorious caffeine which got me through a post-daylight savings Monday in good cheer? Fuck that noise. I just have to utilize it in such a way as to avoid my body getting too used to it.... Hmm. For now, coffee during the week, nothing on the weekends. And maybe Friday. I leave you with two coffee jingles, of very different styles. I enjoy both.