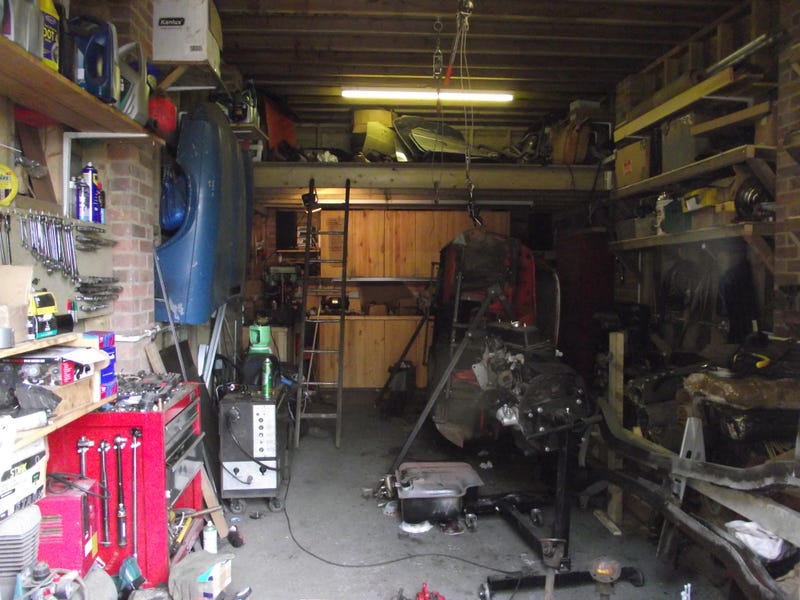 This is mine, and although it's a little messy (that's getting better) I'm proud of some of the ideas I've got to fit far too much junk into a small space...
My garage is ~13' x 21', and I'll walk you round a couple of my favourite little features :)
On the right I've recently put up some shelves all the way up the left-hand wall. I'm lucky in that it's about 4m high so I've got a lot of vertical space to exploit. In the future I'll grab some appropriately sized storage boxes and organise it a bit better. Oh, and underneath that there's a Rover V8 in bits, a Rover 2600 OHC, a 4.0l Jaguar AJ6 and a 1.6l Peugeot 106 GTi engine, along with an assortment of gearboxes and other random junk that needs a place to live.
Next we've got the opposite wall, which is where I could probably do with some suggestions. I've currently got a compressor there that needs wiring up, the tool chest, an assortment of spanners, sockets and hammers and an overhead shelf with all my fluids there. I didn't get a picture unfortunately, but just to the left there's a couple of small shelves holding three jacks and a fire extinguisher (screwed onto the upright that supports the door, so if there's a fire you've sorted your exit route by the time you've got to an extinguisher).
The lower shelf there is a bit of a dumping ground and needs sorting out really...
Next to that I have my welder (some old industrial beast from an Italian factory somewhere), the compressor that actually works at the moment, all my sheet metal behind it (not the best place, but the only place for it really), a Triumph slant 4 engine and one of my favourite ideas, a couple of hooks so I can hang a fibreglass Spit/GT6 bonnet on the wall :)
Moving back we've got a rather dark picture of the overhead storage shelf that spans about 1/3rd of the garage length. It's built out of 9x2 with a thick fibreboard floor and has tons of stuff up there. Most of two Spitfires, most of an MGB GT, some Maserati parts and a ton of Jag bits.
Then we've got my workbench area which really needs some properly sized shelves in the cabinets as it's massively underutilised at the moment. I'm thinking of changing the upper cabinets doors to pegboard so I can hang tools on them, but that costs money so will probably take a while to do...
I've just added the little shelving units inside the studs of the wall which I'm rather proud of :)
Then, above your head, I've just added in some storage for long-stock inside the rafters of the storage area which again I'm rather proud of :) there's a little boxed-in section for shorter stuff, and another open section for stuff that spans the width of the garage :) behind that we've also got my paint cabinet with a portable guillotine perched on top :)
So, there we go :) current things I have no real good place for are rolls of carpet for working on cars outside on the loose surface (currently perched on the engines), my cheapo TIG welder (going to make a little trolley for that), wooden blocks for padding jacks (no idea with that one) and sheet steel.
Current ideas brewing are a platform that I can winch up towards the ceiling in the middle that's beefy enough to hold another Spitfire bodyshell/chassis up by the roof, sorting out the electrics properly (most of the plugs you can see aren't wired yet), get some better lighting in there, make some drawers for fasteners embedded inbetween the studs, running some foam insulation under the roofing sheets to stop condensation, and some paint! I'm thinking a warm grey for most of it, with accents either in stained wood or slightly metallic bronze :)
What about you guys?