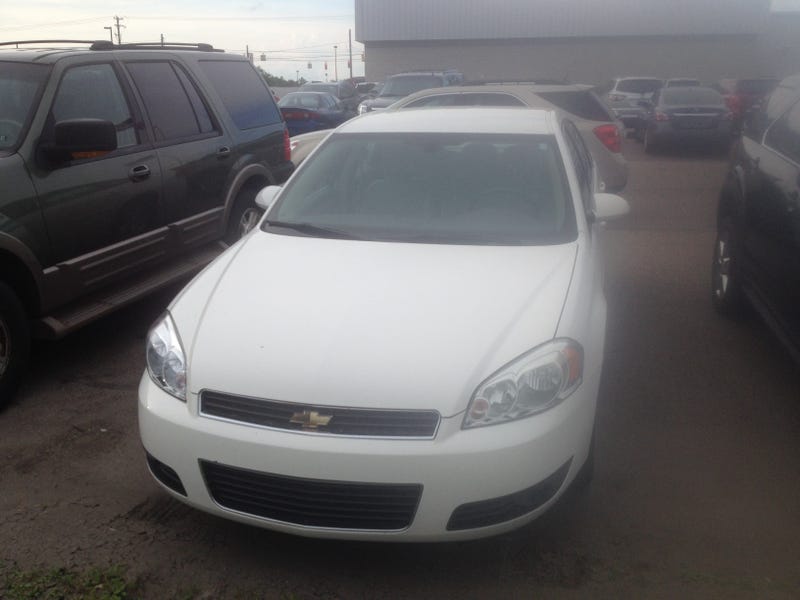 Ok, I'll admit it, the jig is up. My pt, Jolly Roger, is in the shop once again for not starting (for those of you playing at home, that's the 4th time in 2 months, on a car with 103k miles). So yesterday my grandparents drove my family out to look at cars. This Impala was the most interesting for various reasons.
It's a '06 Impala LT, 63k miles on it (I drive 16k+ in commuting alone), has a 3.9L engine (so 240 hp), seats six, and seems to be in immaculate condition. The car just came in, and was heading to be inspected today, so I never got a chance to drive it, but I will if it passes the inspection. But the carfax is one of the best I've seen, apparently a older lady drove it. It's being sold for $8700, but I do have a trump card, my gpa.
See, my gpa has leased his past 7 cars from the same salesman that we talked to yesterday. I actually found out that the guy started working there in the late '80s, and my grandpa was one of his first customers. From what I hear, salesmen love that. To me, it's leverage.
Anyways, this is where you guys in oppo come in. Tell me the pros and cons of this car. And is it worth the buy? I went on fueleconomy.gov and there seems to be no significant difference in mpg between the impala and the pt, which is a bummer, but it is a lower mileage vehicle with more seating and space.
As for Jolly Roger, I'm still waiting to hear how sick he is. Updates on that when I get them, -_-.