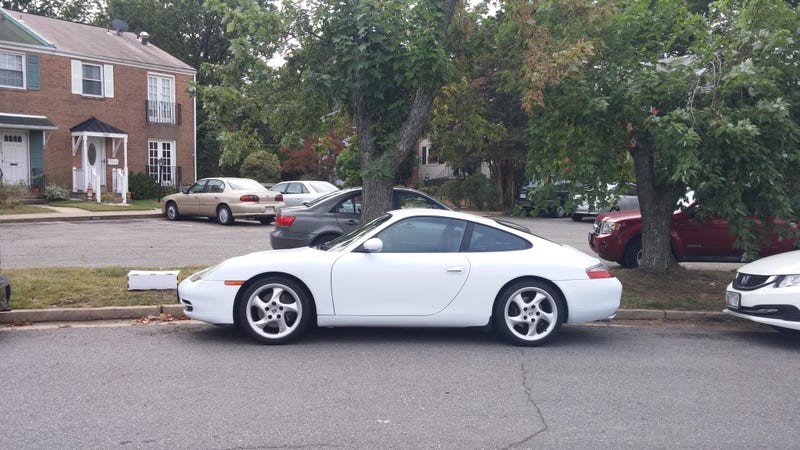 We have the opportunity to pick up this '99 Porsche 911 with 92k miles as the RFD project car. Don't fooled. It's a 10 footer.
It came from Las Vegas and at some point was either a lease or fleet vehicle (we're leaning on lease). There are signs of paint-less dent removal and it has been completely repainted at some point. It has a new'ish windshield but the seal job is shoddy and will need to be repaired at some point.
There are scratches all over - all minor - with exception of one blotch behind the driver's door where it looks like the paint was applied too thin and the clear coat has given it a little bit of yellow appearance though you'd probably never notice unless it was pointed out.

Interior shows it's age but isn't terrible. Steering wheel, shift knob and emergency brake handle have aged leather. Unfortunate since those are the touch points. Driver's seat bolster has a little wear to be expected.
Mechanically, it drives fine. There is definitely an aftermarket pressure plate as the clutch pedal requires a little effort.
The PPI revealed the following:
Bump stops deteriorated

Ignition switch failing
Passenger side seat belt causing airbag light
Pre-cat o2 sensor bad
Leaking IMS or RMS - not sure which
Rear endlink bushings need replaced
Slight vibration in steering wheel at 70+ MPH
So what are your thoughts? What's this car worth? Seller is hard at $14k.