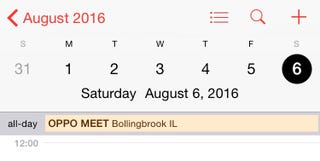 So the votes are in, and OppoMeet 2016 has an official date! August 6-7.
https://m.facebook.com/events/9744637…
How begins the fun part, with around 18 people who are "for sure" going. We are going to look in to events and sponsors. So if you can now make plans to be in Bolingbrook IL in earlier August. Please go sign up, the more people we get the better the events are going to be.
I'm going to see if a local floor mat company may let us use their parking lot for some events, as well as maybe going to authobahn. Basically I need to know how much money people are willing to spend to attend.
If it's $0.00 I think we can crash some other events and have a car meet & cruise and a pretty good time.
I'm thinking that if we can do between $20-$50 a person and get some track time. That would be a good trade value for money event.
I would love to get a swap meet area maybe get the L&LDC an area as well.
Thoughts? this is our meet, let's make its the one we want.