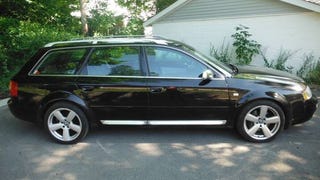 I'm relatively new to the community, and I'm looking for some much needed help/input. I currently own a B6 Passat 3.6L (91K miles) but desperately looking to get into a wagon. I've stumbled across this S6 Avant and would love some input into whether or not it's worth it to pursue purchasing it.
Highlights: $6K. Prior salvage. 208,xxx miles. BUT - direct from the post:
- Car has tons of maintenance which includes (all done at 192k): timing belt kit, water pump, thermostat, front main seal, cam seals, cam chain tensioner gaskets, valve cover gaskets, fuel filter, air filter, cabin air filter, spark plugs, transmission flush, transmission filter, rear differential flush, coolant flush, power steering flush, new battery, new windshield wipers.
- New in last 5000 miles: Full front control arm kit (uppers and lowers), front and rear sway bar links, front strut bushings and serpentine belt pulleys.
- New in last 1000 miles: Brakes front and rear, full synthetic oil change.
Any insight or opinions would be greatly appreciated.